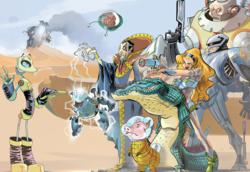 Munich, Germany (PRWEB) March 13, 2013
In preparation for its full-scale launch in May, Travian Games GmbH will be moving Roger & Out, their latest free-to-play science fiction browser based game into open beta on March 13 (available at play.rogerandout.com).
Drawing on the traditions and themes which have made science fiction movies and television shows one of the most popular genres of the last 50 years, Roger & Out spans the galaxy and crosses time and space with a whimsical yet engaging storyline of rebels fighting against a galaxy-spanning empire. At the center of the conflict are your guides, the humanoid-shaped robot Roger and his canine-robotic sidekick Out.
"We're excited to be able to have a wider audience play Roger & Out," said Alexa Stockhausen, Senior Product Manager on the game. "We've learned a lot during our closed beta tests and we're looking forward to hearing what the fans around the world think of the game as we throw the airlocks open and let the rest of the world in."
Roger & Out will be available in multiple languages and is compatible with all modern browser clients.
ABOUT TRAVIAN GAMES GMBH:
Travian Games GmbH, headquartered in Munich, Germany, is one of the leading developers and publishers of browser-based games in the world. Featuring a portfolio of titles ranging from historical adventure to fantasy to science fiction, Available in over 40 languages worldwide and playable on any operating system, Travian Games designs titles to satisfy every age group. For more information please visit http://www.traviangames.com.