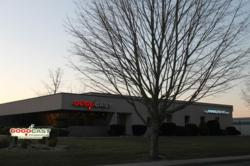 GoGo Cast's digital media network and social media mobile platform offers advertisers' a highly targeted, cost-effective means to deliver messaging that connects and activates their businesses, brands, consumers and content experts
Cranston, RI (PRWEB) March 14, 2013
GoGo Cast Inc., a global leader in dynamic content and digital merchandising in the place-based Digital Out-of-Home (DOOH) space announced today that it has launched a National Sales arm to meet the needs of their growing distribution across the U.S. Anthony D'Arrigo have joined GoGo Cast to increase sales and marketing efforts with GoGo Cast's suite of digital and social media products including, GoGo Cast GoScreen™ network, GoGo Mobile™ vendor portal and their recently announced social-based mobile application, GoGo Planet™. Anthony will be solely responsible for working with national agency buying and strategy groups and their client's moving forward.
Mr. D'Arrigo comes to GoGo Cast with over 20 years of advertising and sales experience. His strengths include analysis on revenue potential and pricing, production of sales materials and creating, executing tactical game plans for sales teams and a specialist in launching new media propositions. He has had the opportunity to work with national clients such as U.S. Army, Verizon, SC Johnson, Best Buy, General Motors, Bank of America, Jim Beam and Toyota.
"The addition of D'Arrigo to the GoGo Cast team of professionals will maximize revenue and help create marketing partnerships with our existing and new advertisers'," said David Paolo, President and CEO of GoGo Cast. "GoGo Cast's digital media network and social media mobile platform offers advertisers' a highly targeted, cost-effective means to deliver messaging that connects and activates their businesses, brands, consumers and content experts."
The new GoGo Planet™ application is integrated with GoGo Cast's GoGo Mobile™ platform and GoGo Casts in-store GoScreen™ network enabling user engagement with deals and offers at all touch-points from discovery to purchase. GoGo Cast's premier digital in-store displays enhance customers' in-store experience and give vendors the opportunity to highlight key selling points, complementing traditional point-of-purchase advertising. GoGo Mobile offers a full-featured vendor portal for creating, distributing and managing 'Deals on the Go'™ campaigns, as well as a HTML5 website specifically formatted for smart phones using geo-fencing for deal location. The newly offered GoGo Planet mobile application now combines the promotion of events as well as the event unfolding LIVE on your mobile device along with featured deals around the event. It is available in the Apple and Google Play store or visit http://www.mygogoplanet.com for more details.
Vendors and dealers interested in finding out more about these unique mobile advertising and digital signage marketing solutions can call 877-320-GOGO to speak to a GoGo Cast digital media consultant or visit http://www.gogocast.com or http://www.mygogoplanet.com
About GoGo Cast, Inc.
GoGo Cast, Inc. is an on-demand, out-of-home digital media company that enables customers to directly communicate with their clientele across vertical markets. Using an aggregated network of digital media and audience-targeted content, GoGo Cast delivers direct-to-consumer advertising that enables retailers, brands, manufactures, advertisers and promoters to reach highly targeted audiences, influence brand choice and receive measurable results. With GoGo Cast's content network and commercial grade digital screens, advertisers can deliver messages that influence consumer buying decisions at the right place, at the right time.
GoGo Cast Inc. Contact: Juli Dexter
Phone: 877-320-GOGO
Mobile: 401-256-6115
Email: jdexter(at)gogocast(dot)com
Web: http://www.gogocast.com
Web: http://www.mygogoplanet.com