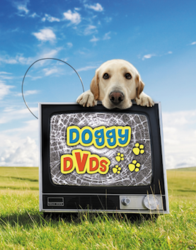 (PRWEB) March 14, 2013
Forty-five to ninety percent of veterinary visits by dog owners result in discussions about the pet's behavior. In cases of separation anxiety, the usual response from vets has been a prescription of pricey canine tranquilizers, leaving dogs fatigued and unresponsive. For many people, that's a whole lot cheaper than the frequent property damage caused by an anxious pooch left home alone. Yet what are the long-term effects of these drugs? The furniture might be spared, but will there be damage to the pet's health? Rather than sedatives, Doggy DVDs has a different approach to separation anxiety: entertain the dog with videos providing sights and sounds which actually appeal to the pet.
"I'm totally against medicating the problem, and not fixing it," says Blake Lange of Doggy DVDs. "A dog is used to roaming outside, playing, and having a good time." And if the dog can't be outdoors, why not bring the outdoors to Fido?
Doggy DVDs recreates the great outdoors onscreen for the house-bound canine. With beautiful summertime footage (filmed at Robert Nelson Dog Park, rated one of America's best by Dog Fancy Magazine), each video shows dogs simply being dogs: sniffing out curious scents, madly chasing each other in circles, activities any cooped-up canine would rather be doing. Pet-owners even choose the type of dogs with which their pooch would prefer to play.
Most importantly, the TV-watching dog is hearing the sounds of nature while the DVD plays. Studies show the serenity a dog experiences very much depends on the surrounding noises. Deborah Wells at Queen's University Belfast proved that dogs in animal shelters are actually calmed by classical music, while heavy metal provoked much agitation and barking. Further research revealed this is not because dogs are patrons of high culture, but because canine ears react quite differently to noise than human ears. Man-made sounds tend to upset, while quieter, more natural sounds soothe the savage (or domestic) beast. Simply leaving a TV or radio on all day will expose a dog to much disconcerting human noise. The Lange Group, however, has provided sounds that canine audiences will find entirely natural, comforting and soothing.
"Our canine friends bring us calmness," says Lange. "We should be returning the favor." Doggy DVDs does that, without any medication.
Doggy DVDs is owned by The Lange Group, offering relaxation services that are suitable for your dog's needs and entertainment.