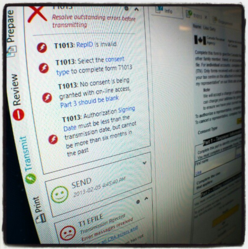 Traditional professional tax software in Canada looks almost like it did ten years ago.
~Cameron Peters
Calgary, Alberta (PRWEB) March 14, 2013
Trilogy Software Inc. announced today their first filing release of TaxCycle T1 Professional Income Tax Software for Canadian tax professionals and accounting firms. Trilogy's T-Slip and tax document scanning and management software, DoxCycle, was released last tax season. The integration of the two software applications offers unprecedented productivity to Canadian tax professionals.
"Tax professionals expect much more from their preparation software in this age of heightened client expectations and rapidly changing technology. Meanwhile, traditional professional tax software in Canada looks almost like it did ten years ago." states CEO Cameron Peters. "For example, we have built our software with an 'EFILE-First' design that focuses on electronic workflow and transmission instead of a paper filing process."
This just as the Canadian Revenue Agency (CRA) introduces mandatory EFILE for tax preparers submitting 2012 T1 personal income tax returns. Read about CRA's announcement here: http://www.cra-arc.gc.ca/mandatoryelectronicfiling/
EFILE ("electronic filing") was first introduced in 1992, and over time has become the predominant way tax returns are filed by those completing tax returns on behalf of others. CRA's mandatory filing rule impacts approximately 23% of returns filed by tax preparers, according to 2010 CRA statistics. Of the 13.65M returns filed by preparers, 11.25M were submitted using EFILE, 2.36M were computer printed, and 750K were done by hand. More information about EFILE, including the EFILE-centric design as well as benefits to CRA, can be found on our blog post "CRA mandatory EFILE is, well … mandatory."
"We are the only company in the professional tax software industry to focus on end-to-end electronic tax preparation workflow," continues Cameron. "It starts in DoxCycle with the tax preparer scanning T-Slips and PDF files, and then posting the data through to TaxCycle for tax preparation, client communication and quick EFILE transmission."
TaxCycle and DoxCycle are available in a free trial download from the company's website http://www.taxcycle.com.
This is Mr. Peters' third tax company. He co-created Cantax Software in the 1980's (now owned by CCH) and founded GreenPoint Software and the ProFile Professional Tax Application Suite in the 1990's. Intuit acquired GreenPoint in 2000.
Trilogy announced raising $3.3M in private capital in the fall of 2011, which has led to recruiting an experienced tax software development team working out of offices based in Calgary, Alberta.
Cantax is a registered trademark of CCH Canadian Ltd.
ProFile is a registered trademark of Intuit Canada Ltd.