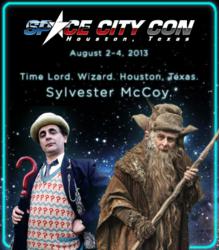 My Houston Hometown Comic Con - Jason David Frank, Power Rangers
Houston, Texas (PRWEB) March 15, 2013
For fans celebrating the 50th Anniversary of "Dr. Who", the 20th Anniversary of the Power Rangers, and all things Pop Culture, Houston, Texas is the destination of choice for the summer "Geek Festival" on August 2-4. Space City Con 2013 includes 24 hour programming for 3 days, exapnded to two adjoining hotels, with vendors, comics, artists, authors, media guests, gaming & video-gaming, cosplay, a Masquerade competition, martial arts demonstrations, a Klingon Makeover for Charity, the Robotech 2013 Convention Tour, and fun for kids of all ages to enjoy.
Sylvester McCoy, beloved for his role as the 7th Doctor, and also for his quirky Radagast the Brown wizard in the international blockbuster, Peter Jackson's "The Hobbit: An Unexpected Journey", will be joining a gathering of 5 Power Rangers: Jason David Frank (Green), Steve Cardenas (Red), Catherine Sutherland (Pink), Blake Foster (Blue Turbo), and Karan Ashley (Yellow), a native Texan like JDF.
Houston will also welcome Walter Koenig, a Star Trek legend, who is Executive Consultant for the film project Star Trek: Renegades, returning to the role of Chekov, now an aged Admiral. Tim Russ (Tuvok), Manu Intiraymi (Icheb), J.G. Hertzler (Martok), and the stunning Adrienne Wilkinson (Xena's daughter Eve/Livia; Star Wars' Maris Brood) as the newest Starfleet Captain, Lexxa Singh, will be attending all weekend to sign autographs, take photos with fans, and speak about this film pilot which is gaining incredible momentum among Trek fans of every generation with the goal of putting Star Trek back on TV where it began.
Star Trek: Voyager's Robert Picardo will serve as Master of Ceremonies, giving Houston the distinct and unique honor of hosting "Two Doctors" - two actors whose characters were simply and grandly, "The Doctor" in their respective shows.
Rounding out the line-up from Trek and Stargate, is John de Lancie (Q from Star Trek: The Next Generation) and Torri Higginson (Stargate: Atlantis). This being Babylon 5's 20th Anniversary as well, Jason Carter (Marcus Cole) will appear with Koenig (Bester, the Psi-Cop).
Professional photo ops will be available with restored components of the Enterprise-D bridge NewStarship.Com project, which is traveling to Houston along with the actual working TARDIS console, complete with sounds and lights, from the 1996 Dr. Who movie - the console that belongs to The Doctor: Sylvester McCoy. This will be an extremely rare opportunity for fans to have special photos taken with the talent and the set pieces.
The convention has added a 24-Hour Gaming & Video-gaming segment, not only with console video games, but also the MechCorps Virtual Reality Battle-Pods, and the Artemis Starship Bridge simulator. Expanding to two hotels, it will be the largest tabletop, miniature, and card gaming event Houston has ever seen. Special guests for Gaming will including Bruce Cordell and Robert Schwalb, to give Houston an exclusive look at the D&D Next development of the newest iteration of the fantasy roleplaying game, Dungeons and Dragons.
Space City Con brings fangroups and costume groups together for networking. SpaceUp Houston and NASA are expected to participate, along with Kids Need to Read, the onsite charity, founded by "Castle" star Nathan Fillion. Kids 10 and under are allowed in for free, so they can discover education within the entertainment.
Comics – Masquerade Contest – Official D&D Next - Robotech Tour – Fangroups – Artists Authors - Cosplay - Entertainers – 24 Hour Gaming & Video-gaming - LARP – Panels MechCorps – Small Press - SpaceUp Houston – Hickman's Killer Breakfast - Media Guests TARDIS & Enterprise props - Klingon Makeover for Charity - Game Expo
Autographs & Photo Ops - Board & Card Games - Kids Need to Read charity