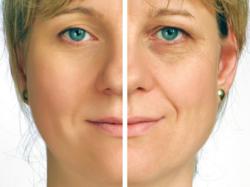 "The body produces less Elastin as we age", says salon owner Carole Gardner– "thus the onset of wrinkles and sagging skin"
Asheville, NC (PRWEB) March 14, 2013
Elastin Infusion therapy is Designed for use with Microcurrent Treatments
Microcurrent facial & body toning is becoming more popular as a recognized method for `non-surgical' face lifts in Asheville, NC. One of the key elements to an even more successful anti-aging microcurrent treatment is adding an Elastin Infusion to maximize the efficacy of the impulses.
Elastin Infusion Therapy was first formulated as a new exciting product that actually enhances routine microcurrent treatments: "Iontophoresis Elastin Infusion Therapy™." The infusion therapy can be utilized for every Microcurrent treatment with ease and confidence anywhere on the body. Its because of its superior hydration qualities and much more.
Elastatropin® (Tropoelastin) is the most advanced skin care ingredient in the world. Tropoelastin was developed as part of a Defense Advanced Research Projects Agency (DARPA) competition on wound healing and tissue regeneration to help treat battlefield injuries. Elastastatropin helps restore the natural elastin content in the skin that is lost throughout the aging process, helping reduce the appearance and onset of wrinkles.
"The body produces less Elastin as we age", says salon owner Carole Gardner– "thus the onset of wrinkles and sagging skin".Also the skin is damaged by the sun's UV Light, breaking down elastin fibers, causing the skin to lose the 'elasticity' to snap back and so wrinkles form.
Anti-Aging Microcurrent treatments are an effective and popular alternative to BOTOX , other injections and even a traditional face lift. It promotes the production of both collagen and elastin which diminish as we age causing thin skin, wrinkles and sagging.
Infusing Elastin with Microcurrent can replace up to two years of lost elastin with each treatment. Supreme Skin i is a popular local skin care salon, specializing in noninvasive alternatives to risky and expensive anti-aging procedures. They aim to turn back the clock on aging and show visible results immediately. One client Lori states: "All I can say is "WOW!" I have never tried anything like this before and can honestly say that the difference in only 5 treatments is mind blowing. I'm VERY happy with the results and am looking forward to getting even more treatments and feeling even more beautiful"!