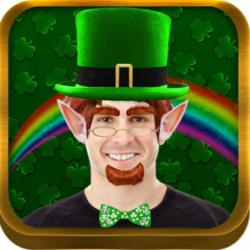 Belfast, ME (PRWEB) March 14, 2013
Mobile apps Leprechaun Me and Pet Holidays make it easy to dress you and your pet for St. Patrick's Day by adding leprechaun accessories to photos and then sharing those photos with friends on sites like Facebook, Instagram, and more.
Leprechaun Me includes red hair, beard and eyebrows along with pointy leprechaun ears. There are also hats, pipes, green beer, pots of gold, a rainbow and more to add to pictures. Pet Holidays features a green top hat, gold glasses, a green bow tie and gold coins.
The apps are easy to use. Users pick items from art folders and then position, size and locate them on their photo using their fingers. When their masterpiece is complete, there are buttons to upload the image to their Facebook page, Instagram, Twitter, Pinterest and Flickr. There is also a button to upload the photo to Shutterfly where it can be made into a card or gift.
"Our cat is not keen on wearing actual clothes," reports developer Tim Wilson. "And our goldfish? No chance. So we made these apps to make it easy to put St. Patrick's Day items on our pets."
Both apps are available from iTunes, Amazon and Google Play.