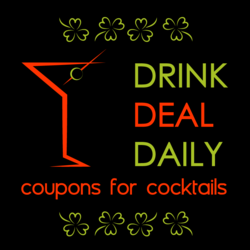 "This gives me the chance to raise a glass with my closest friends...even when I'm no longer that close to them on the map" - John Martin
Phoenix, AZ (PRWEB) March 14, 2013
Drink Deal Daily wants to break the record that has been continuously held and broken by Guinness and their famous annual [The Great Guinness Toast since its inception. This event is usually held the 3rd Friday in February with the goal of breaking their own record and is often called St. Practice Day, for folks getting primed up for the main event on St. Patrick's Day. Since Guinness is considered by many to be the Official Beer of St. Patrick's Day, Drink Deal Daily feels this is the prime opportunity to try and break their record.
At exactly 4pm EDT this Sunday, people from around the world will raise a pint, glass, flask, bottle or shot of their choice and make a toast, the St. Patrick's Day Toast. Although this will be done in hundreds of bars and restaurants around the world, it will also be done in thousands of living rooms, basements and backyards.
"I think this is idea is fantastic. Over the years...as we all get old, married and have kids...we can't or don't get out like we used to. Maybe we don't even live near those that were once our usual running mates. This gives me the chance to raise a glass with my closest friends...even when I'm no longer that close to them on the map" said John Martin, a Long Island transplant.
Drink Deal Daily will be broadcasting the toast on YouTube. People will log into the event on their computers or smart phones and everyone will be able to do the toast together, 100's of bars and restaurants and 1000's of people across the entire planet.
"With the successful promotion of the St. Patrick's Day Toast, we could join the ranks of Guinness, or Zues, the record holder as the tallest living dog, or Darlene Flynn and her record breaking 15,665 pairs of shoes, the 738 ft 10 in longest pencil, the 20" largest bubblegum bubble, and hopefully the St. Patrick's Day Toast, the new record holder of the World's Largest Simultaneous Toast." said [Adam Dopps , managing member and Founder of Drink Deal Daily. "We used to own a few bars and were involved with a couple of the Guinness record breaking toasts back in the 90's, so it has always been a goal of ours to see about replacing them on top, even if just for a little while."
Drink Deal Daily will be launching its daily deal "Coupons for Cocktails" site to Bars and Restaurants in Seattle, Phoenix and San Diego later this month, and will be in 15 markets by the end of the year. "This is a way to help us get a jump out of the starting gate" continued Adam, "We don't have a marketing budget that is even a millionth of what the big guys have, so we are doing something different with this fun event, using this as a way to connect with our customers."
Chris Gunkle, a social media consultant with Chattrbox Marketing said "Trying to beat a Guinness record is no easy feat, even for an organization with a large database to draw from. If Drink Deal Daily is able to set a record of this magnitude, within just four days, it would be a great testament to the power of today's social media landscape. SMBs everywhere should sit up and pay attention so they too can learn to harness the power of our connected world in order to grow more rapidly than was ever possible before."
Join Drink Deal Daily and their friends from around the globe to toast St. Patrick's Day this Sunday. Be it from your local pub or your own living room, you can join in the attempt to set a Guinness record for the World's Largest Simultaneous Toast. The toast will start at 4 pm EDT with 1000's of people in 100's of bars around the world celebrating St. Patrick's Day and the Saint Patrick's Day Toast.
To learn more about this event, visit the Facebook page at http://goo.gl/WhGta, or login to the event at http://goo.gl/UnPch .
Drink Deal Daily, http://www.DrinkDealDaily.com . #StPatricksDayToast
Media Contacts:
Adam Dopps, Managing Member and Founder
DrinkDealDaily(at)gmail(dot)com
480-415-4161
For Immediate Release