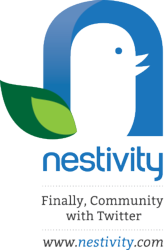 Los Angeles, CA and Austin, TX (PRWEB) March 14, 2013
SXSW 2013 attendees were among the first to see the Nestivity product in action, with live Alpha communities moderated by Rackspace StartUp Liaison Rob Scoble and social media innovator/Fast Company blogger Jure Klepic. Thousands of influencers and companies are among the first registrants for the Beta program, scheduled to begin rollout this week. A selection of companies participating in the Beta program include Dell Enterprise Support, TaylorMade Adidas Golf, Infusionsoft, Binnys Beverage Depot, NPR, Media Bistro and Focus On the Family. Technology and social media luminaries Guy Kawasaki Mari Smith, Ted Rubin, John Jantsch, Jay Baer, Chris Voss and dozens more will join them.
Leading social media destinations, such as convinceandconvert.com and other industry veterans have called Nestivity "One of the Four Ways the Twitter you Know is Changing..." and "The Future of Twitter." During SXSW, Scoble conducted a series of 20 interviews with hot tech startups; and the conversation is ongoing at http://scobleizer.nestivity.com/public. While Klepic kicked off a debate about the secret dangers of using Klout and Kred as a standard of influence, and why marketers often get it wrong, at http://jkcallas.nestivity.com/discussions/51379ed6e4b04c1144e3a8e8.
"Response from the community has been overwhelmingly positive," said Henry Min, founder, president and chief product officer of Nestivity. "I am very excited to hear everyone's enthusiasm and feedback as brands and thought leaders can now effortlessly bring large numbers of real communities online in the coming days and weeks."
Among the Tweets flooding in: @BillHibbler @Nestivity is going to revolutionize twitter and I don't say that lightly #SXSW #nestivityparty - @JayBaer, Holy cow. Just did a preview demo of @Nestivity Could change the nature of conversation on Twitter - @JKCallas: Building A Real Twitter Community At #SXSW with Nestivity, or @Scobleizer: Nestivity: The Better Way to Manage Your Twitter Followers, with video demos here: http://www.youtube.com/watch?v=Q_LF5ThCjBI.
All registrants who reserve their handle by Friday, March 15 can jumpstart their communities prior to the April launch. For more info on Nestivity visit http://www.nestivity.com
ABOUT NESTIVITY
Nestivity is the first and only community engagement software that allows you to turn your Twitter followers into a community. Your Nestivity community creates an organized and structured venue to engage your audience more deeply. Nestivity makes it possible to turn tweets into conversations that are easy for you to moderate and for your followers to engage. All activity from your Nestivity community also appears on Twitter, allowing anyone to find your content and join the conversation.