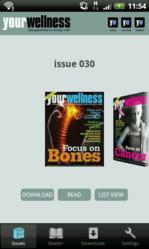 I subscribe to a lot of magazines. Was very pleased to see that this magazine does not charge for its editions :)
London, England (PRWEB UK) 15 March 2013
Yourwellness Magazine is the first comprehensive local wellness magazine and is launching its new free app – available to download now on Android and Apple products.
Edited by the award winning Dr. Sarah Brewer, Yourwellness is the gateway to living well that explores all aspects of wellbeing, from health and fitness, through to family, relationships and finances. Renowned for her holistic approach to self-help, Sarah strives to ensure that every edition of Yourwellness represents impartial information that draws readers of all ages.
Yourwellness's print copy is distributed free of charge to 90,000 readers in the UK and India and read by 70,000 online users ever month. With the addition of the user friendly, easily accessible complimentary App, Yourwellness aims to reach a wider audience and educate readers enabling them to make informed decisions about their wellbeing.
The app, which instantly shot into the 'What's hot' chart in the iOS App store has been well received by users as it breaks the mould of other magazines as there is no payment involved... ever!
Muezilla's review stated, "I subscribe to a lot of magazines. Was very pleased to see that this magazine does not charge for its editions :)"
Patricia1943 also seems equally happy and reviewed, "Free and very informative. Very Impressed. Will recommend."
So why download a wellness mag?
Michael Kitt of Yourwellness explained, "Yourwellness is on a mission to demonstrate that living well is not just about health. It is about your environment, your relationships, career, social activities and your mindset. Yourwellness provides options to readers every month without pioneering a particular method or treatment. We believe that every option has a value, some will work for some people others won't but if you are not aware of options to help you live well you cannot action them."
To download the app on iOS please visit http://app.yourwellness.com
To download the app on Android please visit http://android.yourwellness.com