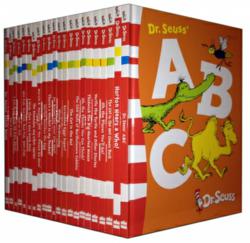 Leicester, Leicestershire (PRWEB UK) 28 March 2013
Dr Seuss Children's Book Collection, 22 Books Set. This is a world famous series containing the following titles in series.
1. Dr. Seuss' Sleep Book,
2. Fox in Socks,
3. I Can Read With My Eyes Shut!,
4. Hop on Pop,
5. One Fish,Two Fish, Red Fish, Blue Fish,
6. I Wish That I Had Duck Feet,
7. The Sneetches and other stories,
8. Marvin K. Mooney Will You Please Go Now,
9. Horton Hatches The Egg,
10. There's a Wocket In My Pocket,
11. Mr. Brown Can Moo! Can You?,
12. Wacky Wednesday,
13. Scrambled Eggs Super!,
14. Dr. Seuss' ABC,
15. The Cat in the Hat,
16. The 500 Hats of Bartholomew Cubbins,
17. Oh, the Thinks You Can Think!,
18. Thidwick the Big-Hearted Moose,
19. Yertle the Turtle and Other Stories,
20. Oh, the Places You'll Go!,
21. The Cat in the Hat Comes Back,
22. Horton Hears a Who!