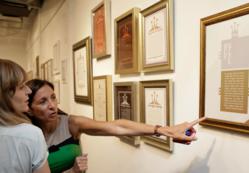 One of the things that makes AmenForYou so unique is that we provide blessings that come directly from the original Jewish sources. That is what makes our gifts so highly desirable and exciting for our clients
Tel Aviv, Israel (PRWEB) March 27, 2013
Today, AmenForYou LTD announced the launch of their new ecommerce website.The company develops and designs original and exciting gifts that can be used as gifts for more than 25 special occasions, including everything from weddings, graduations, Bar and Bat Mitzvahs and births of newborn babies to initiations of new business offices.
Through http://www.AmenForYou.com, customers are able to create a special and meaningful one-of-a-kind gift and receive it directly from the Holy Land. When a Jewish blessing is given as a gift, it is a truly powerful and profound moment both for the gift giver and the recipient.
Company founder Ronit Attias, an internationally recognized mosaic artist, explains, "One of the things that makes AmenForYou so unique is that we provide blessings that come directly from the original Jewish sources. That is what makes our gifts so highly desirable and exciting for our clients."
All blessings provided by AmenForYou have a powerful significance and impart some of the most important and meaningful sentiments possible.
One of the company's goals is to bring people living around the globe closer to their connection with ancient wisdom taken directly from the source. Yet, at the same time AmenForYou binds the past, present and future together by integrating modern designs and high quality materials.
The company seeks to constantly develop new innovative products as gifts in order to please customers and recipients.
AmenForYou also makes it possible to order special dedications. For example, customers can personalize their gifts with the name of the recipient and the event date.
They can select from a variety of blessings and accompanying original illustrations. Various size choices are available including materials including quality paper, canvas, leather and frames.
Further, the company can provide smaller gifts for guests at a special occasion. For example, party hosts could give blessings to all attendees of a Bar and Bat Mitzvah or a wedding.
Attias added, "The blessings add importance, respect and love to meaningful moments throughout a person's life. They derive their force from their wishes and intent."
About Amen For You
AmenForYou's slogan is "Your Blessing is Your Gift." The company specializes in selling gifts in the form of blessings from the source and accompanying original designs. AmenForYou's blessings combine authenticity and innovation and express affection, appreciation and respect.
The company only uses supplies of the highest standards. The team at AmenForYou is made up of creative professionals including visual communication designers, illustrators, product developers, digital media designers, programmers, copywriters, and many more.
More information about AmenForYou is available at http://www.AmenForYou.com/