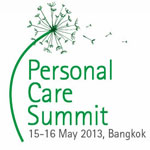 Bangkok, Thailand (PRWEB) March 19, 2013
The personal care and beauty market in Asia is one of the most diverse with wide ranging consumer preferences and budgets. Coupled with large consumer base in China, India, Indonesia and the untapped potentials in frontier markets like Myanmar, Cambodia and Vietnam, it is no surprise that Asia is a key market for cosmetics companies. Keeping abreast with market trends and industry updates are therefore essential in gaining a competitive advantage.
Marketers and researchers can look forward to attending the Personal Care Summit (PCS) in Bangkok on 15-16 May 2013 in order to keep their fingers on the pulse of personal care and cosmetics markets. The program agenda of PCS is focused on three main areas of the personal care market: Sustainability, Market Outlook and Development of Ingredients.
Unilever and L'Oreal will kick off the program by delivering the keynote speeches. Mr. Umesh Phadke, chairman of L'Oreal Thailand will provide an overview of the personal care and cosmetics in Thailand, one of the key beauty markets in Southeast Asia. Chairman of Unilever Thailand, Mr. Bauke Rouwers will look at the consumer demand trends and sustainable developments. Click here to view the program agenda.
On the skincare segment which takes up about 25% of the global beauty market share, Ms. Petronille Houdart, the Managing Director of Laboratoire Du Latz will give a presentation on the latest product development trends. Her presentation will drill down on the latest R&D developments and how do differences in consumer demand influence product formulations. There will also be a presentation on the potential of halal cosmetics by Sirim Berhad. The market outlook session will end off with a review of the opportunities and challenges in the emerging markets: Myanmar, Indonesia and Vietnam.
Sustainability is another key theme of focus at the Personal Care Summit with Unilever giving a presentation on the best practices of sustainable developments and NatureWorks presenting on sustainable packaging solutions.
The focus on Ingredients has consultant Nexant giving a market analysis of oleochemicals and surfactants and the status of renewable feedstock for surfactants. BASF has lined up a talk about the development of natural based APG for haircare.
E-commerce has somehow been the beast that the beauty brands were trying to avoid, but with the rapid growth of online shopping, personal care companies have come to embrace multi-channel marketing to meet consumers at where they are. Ms. Robyn Llewellyn, e-commerce specialist at Procter & Gamble will share her experience on taming the e-commerce beast.
Engaging customers digitally has also been an important area that marketers of personal care products need to master; tackling this topic will be the market specialist at Oriflame, Ms. Louise Jerneborg.
Personal care product marketers wanting to acquire more in-depth knowledge about digital and mobile customer engagement should not miss the post-summit workshop on internet, social media and mobile marketing conducted by Mr. Ron Vining, a marketing expert with over 15 years of experience in marketing communications and brand experience marketing. The half-day interactive workshop is designed to empower marketers with sound understanding of the techniques, tools and best practices to drive successful digital and mobile marketing strategies in their companies. Find out more details about the Workshop on internet, social media and mobile marketing here.
Other topics related to legislation and regulation such as the impact of ASEAN Economic Community (AEC) and EU cosmetics regulations, as well as overcoming the challenge of counterfeit products are also part of the discussions at the Personal Care Summit.
Enjoy savings of up to USD550 when you sign up for both the conference and workshop together before 31 March 2013. Pay only USD1350 (plus 3.9% processing) instead of the full fee of USD1900. To attend the conference only, early bird rate of USD950 (plus 3.9% processing) is valid before the end of the month. To register for the Personal Care Summit or for more details, please visit http://www.advantiquegroup.com/pcs or contact Ms. Selina Wong at selina(at)advantiquegroup.com, +65 6243 3778.