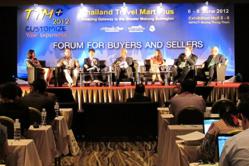 Bangkok, Thailand (PRWEB) March 14, 2013
TTM+ is expected to be attended by 344 buyers from 51 countries including India, the United Kingdom, Russia and USA.
A group of smaller but higher-quality buyers have also been invited from emerging markets such as Argentina, Belarus, Estonia, Indonesia, Kazakhstan, Latvia, Myanmar, and Ukraine. There are 156 first-time buyers, some are from new participant countries such as Beralus, Lao PDR, Poland, and Taiwan.
Said TAT Governor Suraphon Svetasreni, "This year marks the 12th anniversary of the TTM+. Visitor arrivals have nearly doubled in this period and the industry itself has undergone a phenomenal change. This year our priority is to develop niche-market tourism as we move into a new era of marketing and development. Hence, the entire structure of the TTM+ has been geared towards meeting this strategy, and connecting the right buyer to the right seller."
The four key niche-market segments to be highlighted this year are Ecotourism, Golf, Health & Wellness, and Wedding & Honeymoon.
As of 12 March 2013, a total of 318 seller organizations had registered including 232 hotels & resorts, 23 travel agents and tour operators, 17 companies from the Greater Mekong Subregion (GMS), 14 entertainment/theme park/cultural products, 8 wedding and honeymoon companies, 7 health and wellness businesses, 5 associations, 4 ecotourism bodies, 4 other travel services, 2 golf operators, and 2 transportation companies.
To ensure quality representation, hosted buyers are being asked to pay a registration fee of USD300 (9,600 baht) per delegate while non-hosted buyers (who pay for their own transportation and accommodation) are being charged US$200 (6,400 baht) per delegate.
In addition to the business sessions, the TAT has carefully chosen the niche-market products to be showcased during the pre- and post-tours for the buyers and media. These include:
1) Thainess through Supreme Arts: Arts of the Kingdom (New Collections) and Queen Sirikit Museum of Textiles
2) Heritage of Thai Wellness: Thai Herbal Lozenges, the First Thai tradition of Medical School
3) Thainess through Culinary: Thai cooking by the River (Amita Thai Cooking Class)
4) Thainess through Trading Street: Chinatown, Sampheng Wholesale Market, Little India, Flower Market
5) New Fun in Bangkok: The Flow House Bangkok, and Thai Wake Park and
6) Thainess through Martial Arts: Thai Kick Boxing
The post-tours include a biking tour to Suphan Buri in the Central region; the beach resorts of Pattaya, Rayong and Chanthaburi in the Eastern region, as well as those of Chumphon, Ko Tao and Ko Samui in the Southern region.
The North and Northeastern regions are covered in the form of three connecting routes to the neighbouring countries of the Greater Mekong Subregion, thus:
-Thailand and Beyond Myanmar: Bangkok-Chiang Mai-Lampang-Yangon
-Thailand and Beyond Cambodia: Bangkok-Buri Ram-Chanthaburi-Siem Reap
-Thailand and Beyond Lao PDR: Udon Thani–Vientiane–Vang Vieng–Luang Prabang.
In addition, TAT in coordination with the Pacific Asia Travel Association (PATA) will also create a buyer's forum under the topics of Creative Tourism, Dynamic Packaging, and ASEAN Economic Community (AEC).
For further information about TTM+2013, please visit http://www.thailandtravelmartplus.com.
Contact information:
International Public Relations Division
Tourism Authority of Thailand
Tel: +66 (0) 2250 5500 ext. 4544-48
Fax: +66 (0) 2253 7419
E-mail: prdiv3(at)tat(dot)or.th
Web site: http://www.tatnews.org