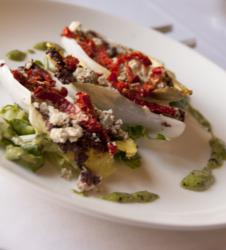 "We're getting ready for a bigger and better fine dining selection at The Blue Star.
Colorado Springs, Colo. (PRWEB) March 15, 2013
The Blue Star recently announced new hours of operation. Beginning April 1st, the restaurant will be open for dinner from 3pm to 10pm seven days a week. In addition, guests visiting The Blue Star will be introduced to its new seasonal menu tomorrow, which will include a vast selection of chef-driven dishes.
"We're getting ready for a bigger and better fine dining selection at The Blue Star," said Joseph Coleman, owner of The Blue Star Group. "This change is coming at a very exciting time for us, with the Ivywild School just around the corner."
Joseph Coleman is also one of three local entrepreneurs spearheading the 2.5-acre project neighboring The Blue Star. In addition to Bristol Brewing Co. relocating its operations into the former elementary school, Coleman is scheduled to open three shops: The Old School Bakery, The Principal's Office, and a charcuterie boutique. South Tejon Street is shaping up to be a destination; the fine-dining establishment is redirecting its focus on dinner and a new Happy Hour program in preparation for the Ivywild School.
"We're offering lunch alternatives at Ivywild, including pub fare at Bristol Brewing, in-house cured meats, sausages and sandwiches, fresh pastries, artisan breads, and desserts, latte art, and exciting cocktails," added Tyler Schiedel, The Blue Star Group general manager.
New Dinner Menu Release Tomorrow, March 14
Starters
French onion soup dumplings with gruyere fondue
PEI mussels, miso-lemongrass broth, citrus croustade
Snapper ceviche, beet, orange, passion fruit, mint, basil
Marinated feta, roasted tomato & olive tapenade, basil vinaigrette, endive leaves
Pan fried sweet breads, caper, lemon, brown butter cauliflower puree
Baked oysters, chorizo, bell pepper, gruyere, lemon mignonette
Soups
Soup of the Day
Creole oyster chowder
Tomato bisque
Salads
Butter bibb, smoked trout, apple buttermilk vinaigrette, radish, aged cheddar tuile
Warm frisee salad, hazelnut crouton, pancetta, parmesan
Entrees
Potato osso buco, quinoa "marrow", wild mushroom gravy
Jumbo prawns, rock shrimp grits, ham hock jus, tomato pancetta salad
Purple Peruvian gnocchi, madierara braised leeks, milk poached parsnip, carrot
Grilled beef tenderloin, sundried tomato, asparagus, savory roasted potatoes, goat cheese buerre
Roast chicken breast, bacon-Pernod spinach, sweet corn and winter veg maque choux
Grilled pork medallions, vinegared pepper salad, tempura pineapple, pineapple glaze
Honey soy glazed snapper, coconut rice timbale, sesame wakame slaw
Venison buco, creamy polenta, fajita vegetables, red chile pan jus
The Ivywild School will open to the public in late April. For more information and/or to schedule an interview, contact Christina Brodsly at cbrodsly(at)gmail(dot)com or 832.671.5187 (cell).