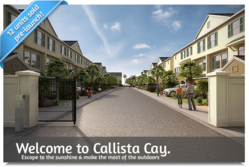 Hit hard in the recession, Florida is now proving itself to be in a solid state of recovery.
(PRWEB UK) 14 March 2013
Select Resorts, in association with Savills International have partnered with the experienced property developers GREG Homes to promote the Callista Cay development in the picturesque area of Tarpon Springs, Florida, which has proven extremely popular with investors within days of being launched to market.
Within the first week of promotion, investors were keen to snap up plots on this attractive development located on over 1,000ft of waterfront on the east coast of the sunshine state - indicating further confidence in the Floridian real estate market and its projected growth.
Florida was one of the many US states hit hardest during the recession, but is now proving itself to be in a solid state of recovery and with low mortgage rates, decreased property prices and unemployment at its lowest level for over 5 years, it appears that now really is the time to invest in respectable developments in Florida. The state has seen property sales increase for the last 3-years and it is believed overseas investors are driving the market forward.
Overseas investors are looking to invest in Florida to purchase unsold inventory, as well as taking advantage of increased demand for rental accommodation. The state is seen as a safe investment market by seasoned investors – they believe that Florida is poised at the start of another housing cycle. Non-seasoned investors are currently able to exploit the opportunity of the low prices and projected resale values.
In a normal market, more supply would keep prices in check, but the amount of developed, desirable land for companies to purchase and build on has decreased substantially. As well as this, building materials and labour costs are on the increase – wait too long and buyers will see higher asking prices for new homes.
Investment opportunities in Florida are increasing in number across the region, but the launch of Callista Cay, Tarpon Springs has seen a superb response during the early stages of promotion.
Select Resorts and GREG Homes are currently able to offer the new homes at Callista Cay, at extraordinarily low prices as a result of Florida's recent housing crash. The land was acquired at a much reduced price. These savings are now being passed on and therefore the units are now being offered at a much lower price than the original release price in 2007.
Just 2.5 miles to the nearest beach, the development of 68-brand new 2 and 3-bedroomed town homes in the ultimate setting. Less than 40 minutes from the Tampa Bay area, residents will benefit from over 100ft of private boardwalk, a fishing deck, heated swimming pool and cabana, whilst also being conveniently situated to allow for easy international travel. All these benefits combine the comforts of home with the joys of vacation, making it an attractive option for those looking for a long-term rental investment, or a holiday home abroad, whilst appealing to a broad range of potential investors.
Furthermore, the development boasts 58 wet-slips which can be purchased with the waterfront properties and are proving to be extremely popular with investors. Michael Reilly, Select Resorts Marketing Director believes this is the additional benefit that makes the development stand out above others in Florida, and potentially why it has had such a positive response in the market.
"The wet slips are extremely covetable assets – especially in an area where boating is an integral part of everyday life. From both a leisure and future worth point of view it is a crucial contributing factor to the long-term value and demand of waterfront properties."
Interested in finding out more about this investment opportunity? Download the Select Resorts & Callista Cay Investment Guide, which gives a deeper insight into the Floridian Real Estate Market, Tarpon Springs and the Callista Cay development.
Time will tell regarding the improvement of the Floridian property market; however initial signs are extremely encouraging. Those looking for a property in the sun for an investment, or as their next holiday home are recommended to consider the Callista Cay development as a respectable and trusted option for investment.
Anyone looking to invest funds into land abroad should contact Select Resorts. The dedicated and passionate team will offer the service one would expect from a company giving expert advice on a vast range of international property areas to assist in reaching more profound decisions on purchasing overseas property.
As the only UK based associate of Savills International the investment specialists offer in-depth knowledge and experience to meet the needs of overseas property and land investors.