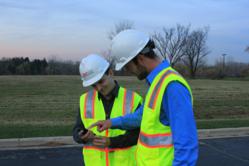 PSI will have an end to end solution that we believe is the most comprehensive materials testing and inspection management system in our industry.
(PRWEB) March 14, 2013
Spectra QEST today announced that Professional Service Industries, Inc. (PSI) will deploy QESTField (a mobile solution for testing and inspection operations) to all mobile field technicians and inspectors across its 125 offices in the United States.
Following the successful use of QESTField on several major construction projects, PSI will deploy QESTField to all mobile employees including those undertaking inspection and testing activities for the construction, geotechnical, non-destructive and environmental service lines.
PSI is a long term customer of Spectra QEST, having achieved significant efficiency and quality improvements in its laboratory operations over the last 6 years using the QESTLab and Construction Hive products. It is now looking to improve its field testing and inspection operations by implementing QESTField.
Marshall Hammack, Professional Service Industries CFO said, "QESTField proved its worth in a series of trials across PSI's network of offices and major project sites. PSI realized almost immediate returns in the form of faster report delivery, reduction in data entry errors, significant reductions in clerical staff cost, and improved levels of customer satisfaction. QESTField is the latest in a series of software deployments resulting from PSI's strategic business partnership with Spectra QEST. Working together we continue to develop real life solutions that meet PSI's business needs allowing the company to reach the stated objective of improved quality, efficiency, and standardization using technology. With the enterprise wide deployment of QESTField, PSI will have an end to end solution that we believe is the most comprehensive materials testing and inspection management system in our industry."
Dirk Janek, Spectra QEST Director Technology & Products said, "Spectra QEST is looking forward to this next phase in partnering with PSI. We have witnessed a remarkable technological transformation in PSI over the last few years and are looking forward to helping achieve the same efficiency and quality gains for the mobile workforce that have been realised in PSI's office operations."
About QESTField
QESTField connects the field testing and inspection staff with the laboratory and office, and helps to reduce effort and error in data entry. It replaces paper-based information gathering at the job site. A technician/inspector can see the work requests allocated to them for the day, and register details of samples taken in the field as well as tests/inspections performed in the field. QESTField improves report turn-around time with information available for reporting as soon as fieldwork is performed, and simplifies communication with field technicians/inspectors by making work requests immediately available to them.
About PSI (http://www.psiusa.com)
Professional Service Industries, Inc. (PSI) is one of the United States' largest consulting engineering and testing firms, employing more than 2,500 staff in 125 offices across the United States. PSI is recognized in the USA as an expert firm in several disciplines, including construction materials testing and engineering, geotechnical engineering, and environmental consulting.
About Spectra QEST (http://www.spectraqest.com)
Spectra QEST is a software development and services company specialising in solutions for the construction materials testing, inspection and production industries. Founded in January 1984, Spectra QEST offers the most comprehensive construction materials quality platform on the market today with products including QESTLab, QESTField and Construction Hive. Its customers include leading international construction companies, construction materials and geotechnical testing companies, construction materials manufacturers and government bodies.