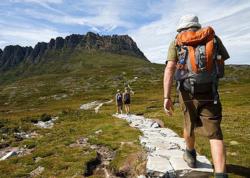 Trekking is the most popular form of adventure tours that clients book. It offers an active path to explore China that is different from more traditional attraction based trips
(PRWEB) March 16, 2013
WindhorseTour released a new series of China Trekking Tours on their website last week. Key destinations include Western Sichuan, Qinghai and Xinjiang; all popular places for outdoor lovers and backpackers to experience China. These destinations offer a non traditional travel style for clients seeking an adventure tour to China.
For more than 10 years WindhorseTour has been designing customized travel plans for trekking destinations throughout China and Tibet. Their aim is to provide first hand expertly advice so that each client has a unique experience that matches their travel style.
Helen Wang the sales manager at WindhorseTour expressed, "Trekking is the most popular form of adventure tours that clients book. It offers an active path to explore China that is different from more traditional attraction based trips." All six (6) of their new China Trekking Tours bring hikers into more rural areas allowing them to explore the pristine scenery and interact with nature.
Minya Konka at 7,556 m. (24,790 ft.) is the highest peak in Sichuan and is one of the featured destinations within the new trekking tours. Enroute over this 11 day journey clients visit Chengdu - Sichuan's Capital, Danba Zhonglu Tibetan Village to experience the deep Tibetan Culture that fills all of western Sichuan. Then they venture into the wilderness and trek along Yulongxi Village, Moxi Valley arriving finally at Gongga Monastery before reaching the splendid Minya Konka. Here, clients will stay overnight at the base camp to see first hand the magnificent sunrise before descending back to a lower elevation.
Another feature of the new trekking tours is that it allows clients to choose their destinations from the peaceful villages of Kanas Lake in Northern Xinjiang, Amnye Machen and spectacular Qinghai Lake, or Yala Snow Mountain of Sichuan. All tour packages are supported with fully qualified local guides, well maintained equipment and nutritious meals to keep spirits and energy high throughout the journey.
Helen Wang expressed, "The goal is simple. Clients should have no worries when they travel with WindhorseTour! So we strive to answer all questions and ensure all concerns are put to rest, before confirming a client's reservation."
WindhorseTour specializes in creating tailor made experiences based on every client's unique needs and operating groups to all provinces in China. Please visit WindhorseTour.com for more information or contact them.
Email address: news(at)windhorsetour(dot)com
TEL: (+86)-28-85593923, (+86)-28-86254701
Fax: (+86)-28-86254710