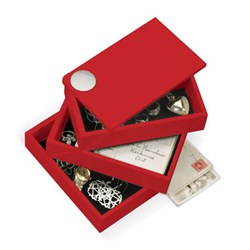 Practical storage that is funky, modern and decorative makes a brilliant addition to the home or workplace and can really add character to a room.
(PRWEB) March 15, 2013
This new range of jewellery storage includes white wooden novelty jewellery boxes, large white jewellery boxes, silver coloured chrome trinket boxes, red jewellery tower boxes from Umbra and jewellery trees from Koziol in a choice of white, black, purple or pink colour options. These modern trinket boxes and jewellery boxes are available to buy online or in the UK showroom.
Contemporary Heaven has taken a new direction and is expanding with the addition of some new product ranges. A number of new collections have been added which include products based upon the principal of fashionable jewellery storage. Practical storage that is funky, modern and decorative makes a brilliant addition to the home or workplace and can really add character to a room. These trendy jewellery storage accessories also make wonderful and unusual gifts for ladies and girls.
One new product collection recently introduced on the Contemporary Heaven website is Jewellery and trinket boxes. This includes a cute little duck shaped polished chrome trinket box from Umbra, a compact spindle jewellery box which is also from Umbra, and the large Repose jewellery box from Umbra. Designed to save space, the Repose and Spindle jewellery boxes have various sliding and rotating compartments to allow plenty of room for trinkets, jewellery and accessories. Another new jewellery box is the novelty Piano jewellery box, which is shaped like the musical instrument with a quality white finish.
Other new products include jewelry stands, like the Pip Jewellery Tree by Koziol which is available in two sizes and four colour variations. The Pip range from Koziol has a very cute bird design that is both funky and organic in style and this jewellery tree is no exception. The tree itself can hold lengths of necklaces and bracelets, while the base also acts as a neat little tray for rings, earrings, watches and other little accessories. Another jewellery tree which is now available was inspired by the natural shape of a laurel tree. Made by Umbra, Laurel is a clear acrylic abstract version of an actual tree, capable of holding strings of necklaces and bracelets.
ewellery boxes are an ideal way of hiding away treasured jewellery which needs protecting from the air, or accessories which may cause a cluttered appearance. Smooth and basic outlines give the three new jewellery boxes a very modern and minimalist look, while the simple design of the Duck Trinket Box is augmented by the highly polished surface. Jewellery trees and stands however are a brilliantly creative way to make a display of jewellery and accessories, expressing personal style and character with every drape of a necklace. All of these new jewellery items are available for purchase online at the Contemporary Heaven website and can also be viewed and purchased at the Hertfordshire showroom.
About the Company
Contemporary Heaven is a Hertfordshire based retailer and manufacturer with online outlets in the UK, Holland, France, Germany, Poland and the US. They are a subsidiary of Roco Verre LTD which has been in existence for more than 15 years, supplying a range of home accessories to retailers, businesses and individuals. Their range of home accessories includes modern clocks, custom time zone clocks, personalised school clocks, coasters and placemats, unusual wall mirrors, storage solutions, contemporary lighting, bathroom accessories, barware and much more.
For more information, visit http://www.contemporaryheaven.com.
Contact Details:
Roco Verre Ltd
Contemporary Heaven Division
68 Wilbury Way
Hitchin
Herts
Ph.: 44 (0)1462 451199