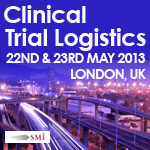 London (PRWEB UK) 14 March 2013
Going forward will be the focus for this year's event where delegates from around the world will hear from leading healthcare professionals on the latest trends and developments affecting the industry.
The two-day event will give a comprehensive overview of Clinical Trial Logistics highlighting regulatory challenges occurring in emerging markets, how to minimise risks at each point in the supply chain, benefits of statistical modelling and overcoming challenges within Patient Recruitment processes.
18 speakers from industry's leading organisations will deliver case-studies and presentations which look to address some of the key challenges faced within Clinical Trial Logistics organisations include: Boehringer-Ingelheim, Roche, Novartis and more. A half day workshop lead by Sue Lee, Regional Quality Manager, World Courier, will cover topical issues surrounding Transport Logistic Strategies such as identifying key issues associated with emerging marketing, addressing current logistical regulatory challenges and offering industry transferable realistic advice.
Tobias Frey, Global Clinical Label Management Associate, Roche Pharmaceuticals will deliver first hand information on Global clinical label management - Experiences at F. Hoffmann-La Roche Ltd, addressing Clinical drug supply at F. Hoffmann – La Roche, looking at label development, approval network in SAP, KPIs and challenges.
Sponsors now confirmed to attend include Lead sponsor: World Courier and others including Catalent, Cryopak, Elpro, QuickSTAT, Sequel Logistics, Thermosafe Brands Europe.
Mark Bishop, Director, Global Marketing, World Courier Management Ltd commented: "we are delighted to be involved in this cutting edge event and look forward to sharing our best-practice and extensive industry experience with the audience".
Recognised as Europe's Leading Clinical Trial Logistics event, this year's conference is expected to be the best year yet!
Dale Butler, MD of event organiser SMi reported: "response to this year's event has been extremely positive thanks to the strength of industry bodies and technology specialists we have on board. We look forward to once again providing a Europe-wide platform for debate and knowledge-sharing amongst our varied communities, both in the lead up to and at the event itself".
For the full conference programme and further information please visit:
http://www.smi-online.co.uk/goto/2013logistics41.asp
Alternatively contact Fateja Begum: +44(0) 207-827-6184 / Email fbegum(at)smi-online(dot)co(dot)uk
Sponsorship opportunities are available for this event, please contact Alia Malick on +44(0) 20 7827 6168.
About SMi Group
Established since 1993, the SMi Group is a global event-production company that specializes in Business-to-Business Conferences, Workshops, Masterclasses and online Communities. We create and deliver events in the Defence, Security, Energy, Utilities, Finance and Pharmaceutical industries.
We pride ourselves on having access to the world's most forward thinking opinion leaders and visionaries, allowing us to bring our communities together to Learn, Engage, Share and Network. We hold events in over 30 major cities throughout the world including London, Paris and Singapore and to date have welcomed over 200,000 participants from 80 countries.
For more information, please visit http://www.smi-online.co.uk