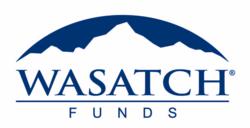 Salt Lake City, UT (PRWEB) March 15, 2013
Wasatch Funds announced today that four of its funds received a total of six 2013 Lipper Awards, which recognize mutual funds that deliver consistently strong risk-adjusted performance relative to peers.
"These awards highlight the strength of our in-depth research to find what we believe to be the best growth companies anywhere in the world," said Gene Podsiadlo, Director of Mutual Funds. "We started our expansion beyond U.S. stock funds in 2000. So it's gratifying to see that of our four award-winning funds, three were in international or global categories."
The four Wasatch Funds that received recognition were:

About Wasatch Advisors®
Wasatch Advisors is the investment manager to the Wasatch Funds®, a family of no-load mutual funds, as well as separately managed institutional and individual portfolios. Wasatch Advisors pursues a disciplined approach to investing, focused on bottom-up, fundamental analysis to develop a deep understanding of the investment potential of individual companies. The portfolio managers employ a uniquely collaborative process to leverage the knowledge and skill of the entire Wasatch Advisors research team in making investment decisions. Wasatch Advisors is an employee-owned investment advisor founded in 1975 and headquartered in Salt Lake City, Utah. The firm had $14.8 billion in assets under management as of February 28, 2013. Wasatch Advisors, Inc. is registered with the Securities and Exchange Commission under the Investment Advisers Act of 1940.
RISKS AND DISCLOSURES:
The Lipper Fund Awards program honors funds that have excelled in delivering consistently strong risk-adjusted performance, relative to peers. Lipper designates award-winning funds in most individual classifications for the three-, five- and 10-year periods. Please visit the Awards for Excellence website for more details about the Lipper Fund Awards. Lipper Award designations are not intended to constitute investment advice or predict future results, and Lipper does not guarantee the accuracy of this information. In addition to periods of positive returns, the Wasatch Funds that received Lipper Awards have experienced some periods of negative returns during the award time frames. Past performance is not indicative of future results.
Mutual fund investing involves risks and loss of principal is possible. Investing in small cap funds will be more volatile and loss of principal could be greater than investing in large cap or more diversified funds. Investing in foreign securities, especially in emerging markets, entails special risks, such as unstable currencies, highly volatile securities markets and political and social instability, which are described in more detail in the prospectus.
An investor should consider investment objectives, risks, charges and expenses carefully before investing. To obtain a prospectus, containing this and other information, visit http://www.WasatchFunds.com or call 800.551.1700. Please read the prospectus carefully before investing.
The investment objective of the Wasatch Emerging Markets Small Cap Fund, the Wasatch World Innovators Fund and the Wasatch International Growth Fund is long-term growth of capital. The investment objective of the Wasatch-Hoisington U.S. Treasury Fund is to provide a rate of return that exceeds the rate of inflation over a business cycle by investing in U.S. Treasury securities with an emphasis on both income and capital appreciation.
Separately Managed Accounts and related investment advisory services are provided by Wasatch Advisors, Inc., a federally regulated Investment Advisor.
© 2013 Wasatch Funds. All rights reserved. Wasatch Funds are distributed by ALPS Distributors, Inc. (ADI). Gene Podsiadlo is a registered principal and Steve Rung is a registered representative of ADI. ADI is not affiliated with Wasatch Advisors, Inc.
WAS003012 7/20/2013