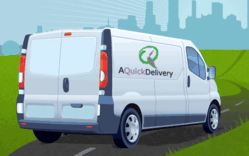 Atlanta, GA (PRWEB) March 15, 2013
The AQuickDelivery order add stop delivery service is an additional stop a customer requests the delivery of another package at the same destination point. An add stop can also be utilized if the customer requests to deliver the package to one location within the destination point for alteration, then deliver to a final recipient at the location on another floor. All Add Stop Services are an additional $5 to the original service price per stop request. Customers can submit their additional stops online via the notes section and the final cost of the order will be reflected on their proof of delivery notification.
Customers can request as many additional stops as needed to perform the courier service required. AQuickDelivery offers Add Stop Services within all of their Georgia service areas and any order request that originates in Georgia for delivery out of state. For complex additional stop requests, clients are recommended to call and contact customer support to ensure their request is performed correctly.
The Order Add Stop Service creates many advantages for their customers. Clients receive the best pricing when creating an additional stop, in comparison to creating an entirely separate order. The service also offers convenience, which the customer can have complex deliveries performed within one order via one courier. AQuickDelivery can also wait for any package alterations and have the package delivered back to the origination point as well. AQuickDelivery will continue to promote customer loyalty and create premium value-added services that meet their specific client needs.
AQuickDelivery is a leading same-day delivery courier for messenger, distribution and transportation services. From small packages to palletized freight, AQuickDelivery performs their courier service fast. The Atlanta courier provides superior customer care, optimal delivery expertise, and modern courier technology to offer the best in courier logistic solutions. Based in Atlanta, Georgia, AQuickDelivery provides quality same-day delivery services to a growing list of over 1,500 clients, including Fortune 500 Companies throughout the US.
AQuickDelivery, a recognized leader in same-day delivery, transportation and distribution services, announces Order Add Stop Delivery Services. This service is offered in an effort to market a value-added service for additional customer delivery request within the same location and promote competitive pricing for multi-stop deliveries. AQuickDelivery strives to be the best choice for same-day messenger and courier solutions nationwide.