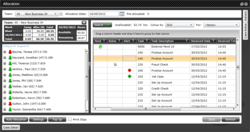 eg has given us the ability to manage workloads and staff with far greater accuracy and predictability, the department now works smarter with significantly reduced costs. In fact, everything eg promised from the beginning has been achieved, and more
Stafford, Staffordshire (PRWEB UK) 18 March 2013
Bloor Research has written an 'InDetail' whitepaper on Optimising Back Office Performance with eg solutions. eg is a provider of an Operations Management Platform solution that is targeted at the service sector to optimise back office performance.
Read the full whitepaper where Bloor state that "if organisations want more than 'just good enough' for operations management and the back office they will have to look outside of ERP and CRM applications". Bloor advise organisations in the service sector to look at eg as they have produced one of the leading products in the operations management platform space.
"Here is a product suite that has been developed to specifically manage and optimise back office operations without changing existing core processes or systems. eg have applied the principles of production management methodology to their knowledge of back office operations in the services sector . The solution provides good support for workforce management and capacity planning. eg have recognised that you cannot implement a complete solution without providing client services that firstly trains managers in how to manage, using their management methodology and, secondly, configures the solutions to work with an organisation's existing applications".
email: ask@eguk.co.uk to get your full copy of the white paper.
eg are market leaders in back office optimisation with the most complete purpose built back office workforce optimisation suite.