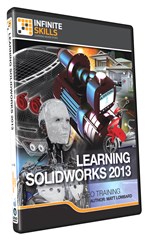 Learn SolidWorks at your own pace
(PRWEB) March 16, 2013
Solidworks is a computer aided design program used to create 3D models in mechanical engineering. Running solely on the Windows operating system, its parametric, feature-based system for building models of mechanical assemblies was designed as a more intuitive and user-friendly alternative to other 3D modeling programs on the market.
With the introductory course, Learning SolidWorks 2013 Training Video, users can begin creating their own 3D models, parts, and assemblies, in a matter of hours, quickly and effectively integrating SolidWorks into a daily workflow with the guidance of seasoned expert Matt Lombard.
Learning SolidWorks 2013 Video Training - DVD
Author Matt Lombard's engineering career has focused on manufacturing engineering, primarily designing electronic assemblies with plastic housings. Lombard has also worked as a SolidWorks implementation consultant and written numerous technical books on computer-assisted design using SolidWorks. In addition to his training practice, he currently works as an independent consultant, specializing in plastic parts and surfacing.
"The biggest challenge to a Solidworks course," Lombard says, "is to come up with models that are both interesting for the viewer and can be used to illustrate the necessary techniques. It's important to keep the user in mind at all levels of course-design, and I think we've done that."
Lombard's decades of combining practical SolidWorks applications with a training and consulting practice make him the ideal guide for new SolidWorks users. Complex techniques and concepts will become second nature as users learn by producing actual models and assemblies.
After an opening that explains the basics of working in SolidWorks, along with an in-depth exploration of customization options, the training introduces the basic process of designing in SolidWorks, demonstrating how to begin by sketching elements and then creating a full-fledged 3D feature from that sketch.
Learning SolidWorks 2013 Video Training continues, going into extensive detail with features. Lombard explains how to adjust and add details to various kinds of features including plastic parts and metal enclosures. Lombard then explains how to combine these features into assemblies, using a 3D model of a motorcycle as a work project.
The course closes with chapters covering output options. These include visualization techniques such as creating a scene, adding lighting, and various display modes; and publishing models as drawings using various view options.
Free demo videos and a full list of course contents can be found on the Learning SolidWorks 2013 training page of the InfiniteSkills website:
http://www.infiniteskills.com/training/learning-solidworks-2013.html
InfiniteSkills offers its Learning SolidWorks 2013 either as a DVD or a direct download from the company website at a retail price of $99.95. Although the compatibility of the programs covered varies, all InfiniteSkills titles and formats are compatible with both Mac and Windows operating systems. Shipping is available around the globe. Additionally, InfiniteSkills tutorials are supported by project files which correspond to examples in the videos, allowing users to work alongside experienced instructors right on their computer or iPad.
About InfiniteSkills Inc.
A leader in the field of software training, InfiniteSkills strives to offer the highest quality training available at an affordable cost. InfiniteSkills tutorials are task-oriented instructional videos, teaching complex skills by providing hands-on examples and guiding users as they carry out critical objectives. InfiniteSkills offers a comprehensive range of software titles available as DVDs, digital downloads, and in iPad editions, keeping with company aim of delivering professional training to customers anywhere they want to learn.