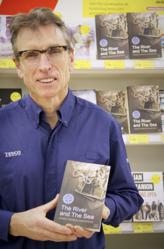 The Norwich-based shelf-stacker-cum-novelist started writing after leaving Northern Ireland ... He and his wife moved to Norwich after he had been shot through the arm by the IRA.
Norwich, UK (PRWEB UK) 14 March 2013
James Ferron Anderson, author of 'The River and The Sea', has been working at night shifts for several years in a Tesco superstore in Norfolk, a job that enables him to fund his writing vocation until it funds itself. He had almost given up on that hope, though, and entering a new novels competition was a last ditch effort to get published. Luckily for him, it paid off and his book won the top prize.
'The River and The Sea', an extraordinarily powerful novel set in end-of-empire Canada, encompassing romance and adventure, has won the inaugural Rethink Press New Novels Competition. The prize was a top level publishing contract and the book is now available internationally in paperback and Kindle format.
The Norwich-based shelf-stacker-cum-novelist started writing after leaving Northern Ireland, where he grew up and worked as an egg packer, glass blower, weaver and a soldier in the British Army. He and his wife moved to Norwich after he had been shot through the arm by the IRA, to get their two small children away from violence and religious bigotry.
"In Norfolk I started writing novels, poems and plays – there is a lot of support for writers locally. I had plays read at the Maddermarket Theatre; I joined a University of East Anglia writing class and fled from it quickly; I entered my first short story competition, partly because it was Irish, and won it. I won an Escalator Award and from that got a reputable agent who tried, and failed, to sell my novels. I had come to the last step and failed to make it. I gave up, not with the addiction to language, for, while writing was hard, not writing was harder, but in the attempt to get published."
Then James got a Free Read at the Writers' Centre, Norwich, with a novel set in British Columbia, a place he loved and visited every year, at a crucial time in the history of the British Empire. But it seemed as if this labour of love wasn't going to go anywhere either, until someone suggested he enter it in a competition run by Rethink Press, a new independent Norfolk-based publisher. The Competition judges – two novelists, the Literary Editor of the Eastern Daily Press, and a Programme Manager of Writers' Centre Norwich – were highly impressed by the entry and unanimously voted 'The River and The Sea' as the winner.
"I was taken aback at how much I liked this, for the quality of the imagery and themes, the two main characters who create conflict and intrigue," said Cate Sweeney, author of Selfish Jean. Sam Ruddock, literary blogger from Writers Centre Norwich said, "It took me to a time and a place I knew nothing of. Jack and Sarah are strong and clearly drawn together by circumstance, a la Gone With the Wind." While Keiron Pim, author and Literary Editor of the Eastern Daily Press, said: "I felt drawn in and soon quite engrossed… quite transported to the Canadian winter. Very atmospheric, very well done".
James continues to work in the Harford Bridge branch of Tesco, where he stacks shelves several nights a week and writes the rest of the time. "I'm grateful to Tesco for providing me with an income and great colleagues who have been supportive of my writing," he says. His Manager, Ivor Hunter, said, "James has been with us at our Norwich Harford Bridge store for the past twelve years and is a popular, hardworking colleague. We're very proud to have James as part of the team – he really proves that Tesco has indeed got talent!"
"It's clear that traditional publishing contracts are becoming harder and harder to get," adds James Ferron Anderson. "I've put the slog in, sending off a professionally critiqued Canadian-set novel to agents and publishers there and in this country. I could find no one to even look at it. Rethink has been the life-saver (and sanity saver) that I needed. Now it is out there, and I intend to make the most of it."
'The River and The Sea' is available on Amazon at £8.99 (paperback) and £1.93 (Kindle)
ENDS
***
Rethink Press is an independent publisher based in Norfolk, which started publishing unique fiction and niche titles in 2012. The Managing Editor is Lucy McCarraher, herself a published author of fiction and non-fiction books. Her first novel, Blood and Water, was published by Macmillan New Writing after being shortlisted in the Richard and Judy 'How To Get Published' novel competition. Rethink is affiliated to Bookshaker which has been successfully publishing self-development and business titles for the past ten years.
'The River and The Sea' tells the story of Sarah Underhill who, with her husband in the trenches of Flanders, struggles alone to maintain their home for his return. But these orchards and lands have been part of a misjudged attempt to establish an English Eden in the arid interior of British Columbia. The help she finds is young Irishman Jack Butler, whom she discovers to be a liar, a thief, and possibly more. Their love affair must end with the wounded Edward's return. Jack's love turns to hatred and when he gets his chance to lead Edward to possible death in the frozen north, he takes it.
The novel was inspired when, in 2007, Ferron Anderson was driving with his family in the dry, desert-like interior of British Columbia. He stopped to photograph a sign by the edge of the road, which read: 'Ghost of Walhachin. Here bloomed a Garden of Eden! The sagebrush desert changed to orchards through the imagination and industry of English settlers during 1907-1914. Then the men left to fight - and die - for king and country. A storm ripped out the vital irrigation flume. Now only ghosts of flume, trees and homes remain to mock this once thriving settlement.' "We drove on," says James. "But the seeds of 'The River and the Sea' had been sown.
To request a review copy of 'The River and The Sea' or to speak to James Ferron Anderson, please contact Lucy McCarraher on 0-786-778-1691. To learn more about James Ferron Anderson visit http://www.jamesferronanderson.com