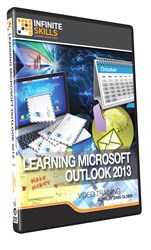 Learn Microsoft Outlook At Your Own Speed
(PRWEB) March 17, 2013
Software training firm Infinite Skills Inc. this week introduced its "Learning Microsoft Outlook 2013 Tutorial," a course designed to optimize Outlook's capabilities for both beginning and experienced users the popular email program.
Since its first release in the mid 1990s, Microsoft Outlook has been the standard utility for sending and receiving email in Windows.
Updated versions, however, have increasingly tooled the program toward a niche as a one-stop shop for personal organization and communication. The 2013 version brings even more enhancements geared toward personal information management, including greater integration with cloud services and with other programs in the Office Suite.
Infinite Skills' Learning Microsoft Outlook 2013 Video Training explores key new features as it teaches the program from an entirely different perspective, equipping users with a broad understanding of the program, and allowing them to maximize Outlook's benefits for streamlining personal organization and communication.
Learning Microsoft Outlook 2013 Tutorial Video
Course author Erin Olsen, a Microsoft Certified Instructor, holds a master's degree in education with emphasis on instructional design and technology. She has been a computer trainer since 1994, starting with Windows 3.1. Her training style is influenced by her real-world experience as an entrepreneur, and her instruction style is oriented toward the practical needs of everyday users.
Olsen's near two-decades of experience equip her with the insight and expertise necessary to provide clear and insightful explanations of Microsoft Outlook's powerful capabilities for personal management.
"I realize that not everybody needs the same training experience," she says, "and so I try to create both unique programs and new ways of delivering the content so that it meets the needs of every person who needs my training."
After a quick tour of email basics, including working with attachments, Olsen takes email to the next level, explaining in detail how to customize emails with stationary and themes, text styles, images, and more. Important capabilities such as using using messages as votes, delaying message delivery, and auto-reply options, are also covered here before a separate chapter explains how to manage messages using rules, folders, and other sorting features.
Olsen then explores Outlook's calendar, exploring views, events, reminders, and meeting organization features, before demonstrating the improved People Hub which integrates contact information with social networking sites.
"My goal," Olsen adds, "is to help you learn the "why," not just the "how," so you truly understand how this program works. if you understand why things are actually happening, you'll be able to respond to the specific situations you encounter."
Free demo videos and a full list of course contents can be found on the Learning Microsoft Outlook 2013 training page of the InfiniteSkills website:
http://www.infiniteskills.com/training/learning-microsoft-outlook-2013.html
InfiniteSkills offers its Learning Microsoft Outlook 2013 Training Video either as a DVD or a direct download from the company website at a retail price of $99.95. All InfiniteSkills titles and formats are compatible with Mac and Windows operating systems. Shipping is available around the globe. Additionally, InfiniteSkills tutorials are supported by project files which correspond to examples in the videos, allowing users to work alongside experienced instructors right on their computer or iPad.
About InfiniteSkills Inc.
A leader in the field of software training, Infinite Skills strives to offer the highest quality training available at an affordable cost. Infinite Skills tutorials are task-oriented instructional videos, teaching complex skills by providing hands-on examples and guiding users as they carry out critical objectives. Infinite Skills offers a comprehensive range of software titles available as DVDs, digital downloads, and in iPad editions, keeping with company aim of delivering professional training to customers anywhere they want to learn.