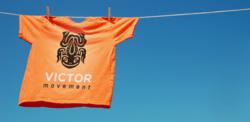 Our goal is to bring a new level of national awareness to child sexual abuse issues in Canada
Calgary, AB (PRWEB) March 14, 2013
Chief Executive Officer of the Siksika Health Services, Tyler White is set to join Fleury on a portion of his much publicised Victor Walk - a high profile nine day walk starting on May 14, 2013 at the Child Abuse Monument in Toronto and ending on the Steps of Parliament in Ottawa on May 23.
"On behalf of Siksika, I am so excited to partner with Theo on this campaign and see an amazing opportunity to affect lasting change and provide a healing focus for those who have experienced the devastating effects of childhood sexual abuse." says White.
Siksika Nation
The Siksika Nation has one of the largest, most progressive and technologically advanced Health Service facilities anywhere in North America. Through their partnership with the Victor Movement, they aim to enhance this further by creating a facility to provide spiritual and clinical healing for victims of child sexual abuse.
Victor Walk Fundraising
Proceeds raised from the Victor Walk are to be divided between the Siksika Nation, the Little Warriors' Be Brave Ranch and the Quinte and District Sexual Assault Centre.
"Our goal is to bring a new level of national awareness to child sexual abuse issues in Canada. Over 8,000,000 Canadians have experience of childhood sexual abuse and we want to be able to bring healing to those who most need it." said Theo Fleury, "We encourage Canadians from all across the country to come together and support the walk. By establishing the Victor Movement as a nationwide initiative, we can help to affect change in the laws that exist today and create a safer world for our children."
About The Victor Movement
The Victor Movement campaign spearheaded by Theo Fleury and his organization, Theo Fleury 14 aims to raise awareness and change the laws surrounding child sexual abuse in Canada. Based in Calgary, Alberta, the Victor Movement will 'launch' on May 23 as Victors around the country stand together to read their Victor Impact Statements. Fleury's personal connection to the campaign stems from years of sexual abuse at the hands of his hockey coach, Graham James. A portion of all funds donated to the Victor Movement will be donated to three organizations: The Little Warriors Foundation, the Sexual Assault Centre for Quinte and District and the Siksika Nation.
Follow the Victor Movement on Facebook and Twitter: facebook.com/victormovement & @victorthefrog.