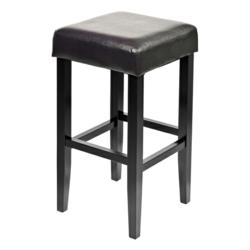 The number one supplier of furniture for commercial and residential needs in the UK is now pleased to announce a new addition to its fabulous range of bar stools with the launch of carlos bar stool.
(PRWEB UK) 20 March 2013
The number one supplier of furniture for commercial and residential requirements in the UK is now pleased to announce a new addition to its fabulous range of bar stools with the launch of square dark brown wooden stool. Carlos Bar Stool is an addition to the kitchen breakfast bar chairs range and bar stools collection. Customers who are looking for modern bar stools for their homes that look good and are comfortable as well can now benefit from this beautiful and contemporary brown bar stool offer. This contemporary bar stool in brown colour and black legs is of course a great addition to any décor or theme and can provide an extra seating in a living or dining room.
This new Carlos Bar stool launched by FurnitureInFashion is a stylish dark brown bar stool with dark wooden legs. The slim and straight design of the wooden bar stool makes it an ideal addition to a small space with seating problem. For providing seating comfort, the wooden stool has been provided with modern faux leather with lustrous shine. The bar stool also offers footrest for utmost comforting experience. Following the trend of offering quality, the bar stool has been manufactured with sturdy wooden frame to ensure long lasting comfort.
Asad Shamim, Managing Director and CEO of FurnitureInFashion, said, "FurnitureInFashion's bar stool line is continually revitalized with new product ranges and prices suitable for all budgets. Handpicked and stylish for their function and durability, our barstools and chairs are also available with matching counters and tables. Our new Carlos Bar Stools can be a great addition to your kitchen and any other area where comfortable seating is required."
FurnitureInFashion has been into business since several years and is specialized in custom upholstered furniture. The company provides furniture for homes, restaurants, bars, clubs and hotels. FurnitureInFashion owns dozens of high quality, contemporary and high end bar stools in several designs. From real leather bar stools in black to mesh stools in colours ranging from yellow to green, FurnitureInFashion offers the most extensive range of bar stools. Most customers will be able to find exactly what they wish to have for their kitchen. The Managing Director of FurnitureInFashion said, "We have proved with the launch of our new brown bar stools that it is possible to have a high quality bar stool that is eye catching, functional and stylish as well. Our entire range of barstools works on the philosophy that you can find excellent stools at extremely affordable prices without compromising on the quality."
FurnitureInFashion sells contemporary bar stools and maintains a huge catalogue at its website. Customers can find a wide range of designs and colours in the bar stool catalogue. The bar stools are available in variety of materials such as acrylic, wire, chrome and wood. Customers can find different high end features in bar stools including swivel bar stools, bar stools with back, bar stools with footrest and many more. The range offers versatility in terms of comfort and price.
"We wish to offer people a huge range of bar stools that they can enjoy and use. We also make sure that the prices are competitive. We offer reasonable prices for most of our products without compromising on the quality. We are also offering some of our contemporary bar stools in sets of two rather than individual stools to give even better value for your money."
To have a look at this new brown bar stool and to place a pre-stock order, please visit the company website today at http://www.furnitureinfashion.net. The range of bar stools at the website is huge, delivery is fast, savings are massive and the quality is guaranteed.
About FurnitureInFashion
FurnitureInFashion is a UK based online retail business. It supplies furniture items from its German based warehouse and has a showroom in Bolton, UK. The company provides everything from umbrella stand, wall art and room dividers to bedroom, bar stools and computer tables. FurnitureInFashion offers excellent free delivery within UK and has a fantastic customer service as well. For further information and details about the sale, please visit http://www.furnitureinfashion.net.