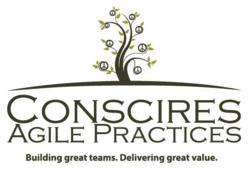 (PRWEB) March 16, 2013
Duration
Experienced coaches from Conscires remain at the company site for the first six months, molding the methodology to the company's specific needs. The duration to complete coaching / mentoring may vary from three to six months, based on the Agile adoption road map.
Approach
Conscires' typical goal is to coach an organization only through the first six months of Agile adoption. The preferred approach starts with a single pilot team that is intensively coached through the first two sprints. At that point, it is time to start recruiting Agile champions and shadow coaches.
Shadow Coaching: The Conscires model of Agile adoption is designed to produce a sustainable Agile environment. To truly attain sustainability, permanent Agile coaches will need to come from within the adopting organization. To train and transition these coaches, Conscires uses "shadow coaching." Agile champions are slowly transitioned from observers into leaders and facilitators capable of training new team members and successfully monitoring the process.
Coaching starts with a small group within a company to prove success, and then expands to the larger group.
Some Conscires clients include: Mercury Insurance group, Cognizant, First American, Kaiser Permanente, Nasa, Core Lodgic, Sage and many more.
Check out the available packages:
Agile Immersion Package
Team is immersed in Agile values and Scrum practices, with the focus on experiencing Scrum instead of just learning Scrum.
Train one team in Agile values and principles
Support during the initial sprint, subsequent sprints with less involvement
Provide feedback and recommendations
~ 50 hours of coaching, 4 – 6 weeks in length
Internalizing Agile Package
Discover values in Agile specific to a specific organization and decide if a wider Agile adoption is feasible.
Train one team in Agile values and principles
Support during the first two sprints, subsequent sprints with less involvement
Experience and apply Scrum in a way both specific to the organizational needs and value driven
Train ScrumMasters and Product Owners
~75 hours of coaching, 6 – 8 weeks in length
Enterprise Adoption Package
Fully support your organization in agile adoption.
Everything from Immersion and Internalizing Packages
Help and guidance in Enterprise Adoption Planning
Support with Release Planning
Identification of engineering practices (eg. XP Practices, Pair Programming, and Automated Testing) that can be incorporated to improve product development quality
~100 hours of coaching, 8 – 12 weeks in length
If interested in learning more please click here: http://agile.conscires.com/coaching-mentoring/.