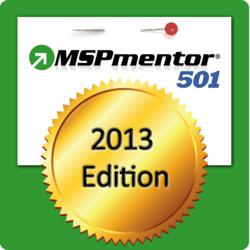 Qualifying for our MSPmentor 501 Global Edition puts Logicalis in rare company
Farmington Hills, MI (PRWEB) March 14, 2013
Logicalis, an international IT solutions and managed services provider (http://www.us.logicalis.com), has been named to the No. 2 spot on Nine Lives Media's sixth-annual MSPmentor 501 Global Edition, a distinguished list and report identifying the world's top 501 managed service providers (MSPs). Additionally, Logicalis US (http://www.us.logicalis.com) has been named to the No. 2 spot on the MSPmentor 200, a list of the top 200 managed service providers in North America.
"MSPmentor congratulates Logicalis on this honor," says Amy Katz, president of Nine Lives Media, a division of Penton Media. "Qualifying for our MSPmentor 501 Global Edition puts Logicalis in rare company."
"Being recognized in this manner is more than an honor," says Vince DeLuca, Logicalis CEO. "It's a worldwide stamp of approval that validates Logicalis' standing as a managed services provider on a global scale. It gives our clients around the world a way to benchmark our success on an international basis, and the ability to know that they have chosen wisely when they look to Logicalis for their managed services solutions."
Logicalis has international managed services capabilities with a common service delivery framework built to offer tailored, regionalized support for both local and multinational clients from any of its nine managed services operations centers in:

Argentina (Buenos Aires)
Brazil (São Paulo)
China (Shanghai)
Malaysia (Cyberjaya)
UK (Slough, Bracknell)
USA (Cincinnati, Ohio; Phoenix, Ariz.; Auburn Hills, Mich.)
The company leverages these international managed services operations centers along with its more than 500 dedicated experts to provide key managed services locally regionally and internationally, a clear differentiator recognized by the MSPmentor 501 and MSPmentor 200 reports.
The MSPmentor 501 report is based on data from MSPmentor's global online survey conducted October-December 2012. The MSPmentor 501 report recognizes top managed service providers based on a range of metrics, including annual managed services revenue growth, revenue per employee, managed services offered and customer devices managed.
This year's report has been expanded extensively to include:

New: MSPmentor 501 Global Edition
New: MSPmentor 100 Small Business Edition (top MSPs with 10 or fewer employees)
MSPmentor 200 North America Edition
MSPmentor 50 EMEA (Europe, Middle East, Africa) Edition
MSPmentor 25 AANZ (Asia, Australia, New Zealand) Edition
New: In-depth data tracking mobile device management (MDM), managed cloud services and other recurring revenue opportunities for MSPs.
MSPs on this year's global 501 list lifted their combined annual recurring revenues 24.5 percent to $2.54 billion. Together, those MSPs now manage more than 5.6 million PCs and servers, and nearly 400,000 smartphones and tablets, according to Joe Panettieri, editorial director, Nine Lives Media.
MSPmentor, produced by Nine Lives Media, is the ultimate guide to managed services. MSPmentor features the industry's top-ranked blog, research, Channel Expert Hour Webcasts and FastChat videos. It is the No. 1 online media destination for managed service providers in the world.
Want to learn more?

About Nine Lives Media
Nine Lives Media, a division of Penton Media, defines emerging IT media markets and disrupts established IT media markets. The company's IT channel-centric online communities include MSP mentor, The VAR Guy and Talkin' Cloud.
About Logicalis
Logicalis is an international IT solutions and managed services provider with a breadth of knowledge and expertise in communications and collaboration; data center and cloud services; and managed services.
Logicalis employs nearly 3,500 people worldwide, including highly trained service specialists who design, specify, deploy and manage complex ICT infrastructures to meet the needs of almost 6,000 corporate and public sector customers. To achieve this, Logicalis maintains strong partnerships with technology leaders such as Cisco, HP, IBM, CA Technologies, NetApp, VMware and ServiceNow.
The Logicalis Group has annualized revenues of over $1.2 billion from operations in Europe, North America, South America and Asia Pacific and is fast establishing itself as one of the leading IT and Communications solution integrators specializing in the areas of advanced technologies and services.
The Logicalis Group is a division of Datatec Limited, listed on the Johannesburg and London AIM Stock Exchanges, with revenues of over $5 billion.
Business and technology working as one. To learn more about Logicalis activities through a variety of social media outlets, click here.