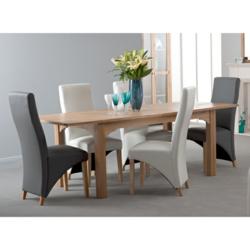 Add elegance and functionality to your dining room with Montana dining room table and chairs manufactured by FurnitureInFashion
(PRWEB UK) 16 March 2013
FurnitureInFashion is pleased to announce the launch of its exclusive and innovative Montana extending oak dining table with 6 Paris chairs. It is a stunning range of beautifully designed dining table and chairs and is perfect for contemporary living and dining. The feature that makes Montana dining table exclusive is the presence of extensions with the table. Montana dining table with its extension is perfect addition to any small dining room and can accommodate 6-8 people easily. FurnitureInFashion is one of the largest online furniture retailer based in the UK. The company specializes in dining room furniture including chairs, tables, cabinets and sideboards for dining room. Montana dining room table range is a remarkable combination of durability, unparalleled elegance and delicate beauty.
Montana dining table has been constructed from a mixture of solid American oak and Reak oak veneers. The contemporary oak dining table is in rectangular shape and can accommodate 6-8 people easily with the extensions attached to it. The two extensions with this contemporary oak table are of 30cm. The presence of extensions makes this table perfect for any size of dining room. For a family of six members, Montana dining room set is ideal, however it can accommodate 8 people as well in case of a family gathering or party.
Montana dining room table comes with 6 comfortable chairs in unique and contemporary curved skirt design. These chairs complement the perfectly sleek design of Montana dining table. For providing more choices to customers in order to personalize their dining table, the chairs are available in brown, black, grey, white and burgundy colours.
Asad Shamim, managing director and CEO of FurnitureInFashion, said, "Montana dining room table range is a new addition to our already extensive dining room catalogue. Our team of designers has worked passionately towards adding functionality along with style in the Montana dining room range. The extensions have been added to make this dining table ideal for smaller spaces as well. We are offering several colours in the Paris chairs with Montana dining table so that our customers can personalize their dining room in their own unique way."
At FurnitureInFashion, the dining tables are increasingly sought for a number of good reasons. Whether it is a coffee table or a dining table, the selection of items is enormous and it stands out in terms of steadiness and resilience. One of the customers at FurnitureInFashion remarked, "I have been a regular customer of FurnitureInFashion.
This new Montana dining room range is absolutely fantastic in terms of design and functionality. The best feature of this table is that you can select any colour in chairs as the range is vast and contains contemporary and modern colours. I think the company has once again done a wonderful job with Montana's launch."
At FurnitureInFashion, customers can find a separate category of chairs and tables. They can customize their dining experience by choosing any table or chair from the extensive catalogue of dining room furniture at FurnitureInFashion. The Montana dining room table is an excellent solution for seating requirements and is available at affordable price. FurnitureInFashion offers free home delivery for the residents of UK.
To have a look at this new Montana dining room table and Paris chairs and to place a pre-stock order, please visit the company website today at http://www.furnitureinfashion.net. The range of living room furniture and collection at the website is huge, delivery is fast, savings are massive and the quality is guaranteed.
About FurnitureInFashion
FurnitureInFashion is a UK based online retail business. It supplies furniture items from its German based warehouse and has a showroom in Bolton, UK. The company provides everything from umbrella stand, wall art and room dividers to bedroom, bar stools and computer tables. FurnitureInFashion offers excellent free delivery within UK and has a fantastic customer service as well. For further information and details about the sale, please visit http://www.furnitureinfashion.net