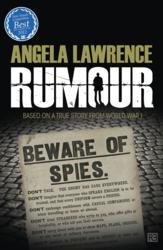 'Rumour' reveals how an honourable man is betrayed by those he loves, with terrible consequences. In exposing the careless cruelty of a nation obsessed with gossip, it holds an uncomfortable mirror to today's media-driven society.
Norwich, UK (PRWEB UK) 15 March 2013
As the centenary of World War I draws closer, we can expect a slew of books about the conflict: the heroism of the men in the trenches, the tactics of battle and the judgement of generals and politicians. Few, though, will explore the personal tragedies that befell ordinary people on the home front.
'Rumour', by former BBC journalist Angela Lawrence, is one such book. It is a searing exposé of the consequences of the wartime campaign to root out German spies which sparked widespread spy-hysteria, with the result that village schoolmaster, William Smith, found himself enmeshed in a web of gossip and innuendo that was to end in tragedy.
'Rumour', set in Suffolk, is the Winner of the 2012 Rethink Press Best East Anglian Novel award.
Lawrence first learned of the story from a book of wartime essays written by "Alpha of the Plough", the pseudonym of journalist A.G. Gardiner, who later became editor of The Daily News. It took her five years of research to uncover the full details of the controversial case. She recorded the memories of the remaining inhabitants of Wangford about the happenings of eight decades earlier, and spent weeks investigating at Ipswich Record Office. But it was the archives of the East Anglian Daily Times that ended up providing her most interesting primary source material.
"The EADT of 1914 is a riveting read," says Angela. "The editor, Frederick Wilson, known as 'The Chief', demanded his reporters make verbatim reports, so you get long, detailed accounts of what was going on in the early days of the war. I realised this story went far deeper than the very brief outline I'd initially read about. It was a big story about Spy Mania in Suffolk and how it affected people – not just William Smith and his wife Alma, although their story was the most tragic, but many more people besides."
Lawrence's skilful interweaving of source material, including official correspondence and the transcripts of two inquests, invites comparison with Kate Summerscale's 'The Suspicions of Mr Whicher'. As in that period detective story, the key characters in 'Rumour' are real people, from the Downton Abbey-type Earl and Countess of Stradbroke, to the obsessive, manipulative Police Chief, Jasper Mayne, and accomplished war reporter, Ernest Hart, whose real life articles are reproduced throughout the book.
Angela, though, chose to fictionalise their lives and those of other characters, giving a fully satisfying experience to novel readers as well as history lovers. 'Rumour' reveals a rural society torn apart by the conflict and how an honourable man is betrayed by those he loves, with terrible consequences. In exposing the careless cruelty of a nation obsessed with gossip and rumour, it holds an uncomfortable mirror to today's media-driven society.
Suffolk-based author, Lawrence, says, "Everyone in Britain today should feel a sense of shame that this scandal could happen here. How could neighbours be so malicious as to turn in an upstanding local man who had given his all to their community, with no evidence he was a German spy, beyond unsubstantiated gossip?"
The judges of the Rethink Press New Novels Competition – two novelists, a representative of the Writers Centre Norwich and the Literary Editor of the Eastern Daily Times – were riveted by this entry and unanimously voted it Winner of the Best East Anglian Novel.
"Like a breaking news story, Rumour will have readers leaning close and holding their breath as they turn the pages," said Sam Ruddock, literary blogger, of Writers Centre Norwich. Keiron Pim, Literary Editor of the EDP, called it "Very evocative, very poignant - a moving conjuring of a lost rural world. There's a strong sense of the characters being perched on a precipice, some more aware of impending disaster than others." And Amanda Addison, author of 'Laura's Handmade Life', called Angela Lawrence "a new distinctive voice whose prose evokes both the period and Suffolk landscape very well indeed. I was transported back in time and place."
'Rumour' is available from Amazon, priced £11.99 (paperback) and £1.91 (kindle)
ENDS
***
EDITOR NOTES
Rethink Press is an independent publisher based in Norfolk, which started publishing unique fiction and niche titles in 2012. The Managing Editor is Lucy McCarraher, herself a published author of fiction and non-fiction books. Her first novel, Blood and Water, was published by Macmillan New Writing after being shortlisted in the Richard and Judy How To Get Published novel competition. Rethink is affiliated to Bookshaker which has been successfully publishing self-improvement and business titles for the past ten years.
'Rumour' starts on June 28 1914, when the heir to the Austro-Hungarian throne, Archduke Franz Ferdinand, is assassinated in Sarajevo. The following day an innocent holiday postcard arrives from Germany at the home of village schoolmaster William Smith. Months later, with the outbreak of the First World War, this postcard is to enmesh William in a web of suspicion and spy-hysteria. Newspapers fuel the paranoia and before long William and his devoted wife Alma, his aristocratic friend the Earl of Stradbroke and his beautiful Countess, the local newspaper editor and his war correspondent, all find themselves caught up in one of the most shameful scandals of the day.
To receive a review copy of 'Rumour' or to speak to Angela Lawrence, please contact Lucy McCarraher on 07867 781691