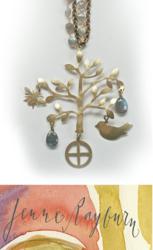 The tree is a source of life, wisdom, beauty, and strength
Boston, MA (PRWEB) March 14, 2013
Jenne Rayburn Handcrafted Jewelry and Wearable Art celebrates the coming of spring with a Tree of Life pendant handcrafted in 18-karet matt gold-plated brass, antiqued brass and sterling silver. Each tree is individually embellished with charms and gems for a one-of-a-kind jewelry experience. The pendants can be customized to tell an individual story for each person who wears one of the necklaces.
The concept of the Tree of Life is familiar to everyone. We search our genealogy to build a family tree and our place in the world. "Because the Tree of Life represents the common ancestral origin of all living things, it offers a strong message of unity – for all things are connected," explains Jenne Rayburn about her conceptual design. "The tree is a source of life, wisdom, beauty, and strength. Many living creatures find food, shelter and protection in trees." Small, handcrafted charms such as flowers, birds, bees and other insects can be found in her tree pendants.
The tree symbol resonates in many different faiths and cultures. For Christians it symbolizes rebirth and immortality. For Mormons the tree stands for love. In Chinese mythology the dragon (immortality) and the phoenix (rebirth) are often depicted in a tree of life. The ancient Celts believed that the many powers of the tree brought them food, shelter and warmth.
Jenne Rayburn can be contacted at http://www.jennerayburn.com to find your special meaning in a handcrafted Tree of Life pendant for spring.
Visit Jenne Rayburn's collections
http://www.jennerayburn.com
Visit Jenne Rayburn on Facebook
http://www.facebook.com/Jenne.Rayburn
About:
Jenne Rayburn is a Boston-based jewelry/textile artist who also studied interior design and architecture, and her work explores the convergence of architecture, design, technique and identity. Jenne is known for her designs combining vintage textiles, findings and components, with contemporary textile design. A graduate of the University of Washington where she studied metalsmithing and fiber arts, and of the University of Massachusetts, Amherst with a MS in Design, Jenne has been designing jewelry and accessories for over 20 years. Perpetual curiosity and a passion for experimentation resulted in her first jewelry collection made from etched copper and brilliantly colored enamel. Since then, Jenne has created six unique collections of jewelry and fashion accessories that combine careful workmanship with unique materials and designs. It is her hope that the wearers of her pieces will find joy in a delightful artistic statement, and also something that enhances their individuality and confidence. Her work is suitable for wedding jewelry and is carried in local galleries and online. Please visit http://www.jennerayburn.com for Jenne Rayburn's online flagship store. For wholesale information, please visit jennerayburn.com/wholesale.com
###