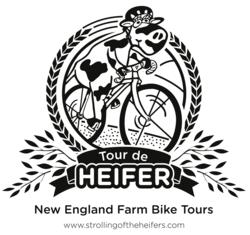 Brattleboro, VT (PRWEB) March 14, 2013
The third annual Tour de Heifer — a trio of scenic farm-to-farm rides — will again challenge dirt-road cyclists on Sunday, June 9.
The Tour, organized by Strolling of the Heifers and taking place on Stroll Weekend, will include 15-mile, 30-mile and 60 mile options.
The longer routes are designed for seasoned riders: there's an elevation gain of nearly 4,200 feet on the 60-mile route, and 2,100 feet on the 30-miler. The 15-mile route is a challenging one for beginner riders, with nearly 1,400 feet of elevation gain.
West Brattleboro's Lilac Ridge Farm will serve as home base — the starting and ending point for all the loops. For non-cyclists, the Tour also offers a 5-mile hiking excursion to the top of nearby Round Mountain.
"We're thrilled to be returning to Lilac Ridge," said Orly Munzing, Strolling of the Heifers founder and executive director. "Last year nearly 250 riders enjoyed the rides, the hikes and the wonderful farm-fresh lunches, and we'll be ready for even more this year."
The Tour is a fund-raiser for the Stroll's Vermont Farm/Food Business Plan Competition, a statewide contest designed to encourage innovation and entrepreneurship. The contest is presented in partnership with Vermont Technical College. It is now under way and will award a total of $60,000 in prizes on June 5.
The Tour includes the option for riders and hikers to fundraise, although fund raising is not required. Contributions collected by participants will be split 50-50 between the participant's designated charity and the Stroll's business plan competition fund.
The Tour is a rain or shine event. Use of appropriate bikes is strongly recommended — mountain bikes, cross-bikes, or (maybe) road bikes fitted with 28mm knobby tires.
For complete information and registration, riders and hikers are invited to visit the event's page at BikeReg.com: https://www.bikereg.com/Net/18921
For information about the Tour's fund raising component, please contact the Stroll's general manager, Julie Potter, via email at julie(dot)strollingoftheheifers(at)gmail(dot)com, or by phone at 802-490-6366.
Route details:

Heifer Challenge 60+ mile Ride: starts 8 a.m. Total elevation gain: 4,246 feet. No major highways, minimal pavement. A very challenging ride for experienced riders. Lunch and snacks buffet midway at Green River. Online registration: $60. On site registration: $75
30-mile Scenic Farm Loop: starts 9 a.m. Total elevation gain: 2,103 feet. No major highways, minimal pavement. A challenging ride for experienced riders. Lunch upon return to Lilac Ridge Farm. Online registration: $35 for adults, $15 for children 12 and under. On site registration: $45 for adults, $20 for children 12 and under.
15-mile Family Ride: Starts 10:00 a.m. Total elevation gain: 1,379 feet. No major highways, minimal pavement. A challenging ride for first-time/beginner dirt-road riders. Lunch upon return to Lilac Ridge Farm. Online registration: $20 for adults, $10 for children 12 and under. On site registration: $25 for adults, $15 for children 12 and under.
15-mile Unicycle division: Starts 10:00 a.m. Online or on site: $10, adults or children.
An alternative for walkers: 5-mile Road and Trail Stroll: Guided hike starts 10:30 a.m., from Lilac Ridge Farm to the top of Round Mountain, and then back via Ames Hill Road and Hinesburg Road. Climb of about 750 feet to summit. Lunch upon return to Lilac Ridge Farm. Online or on-site registration: $10 per person