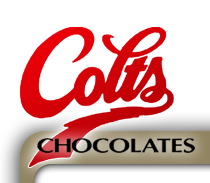 Nashville, TN (PRWEB) March 18, 2013
Nashville is known as a town where many a country star got their start. A recent article on the Huffington Post presents a different take on a story of fame and fortune in "Music City." The feature examines the journey of one hardworking singer/songwriter and the events that led her down a more delectable road to success.
The article, featured on the AOL, Marlo Thomas Huffington Post blog, provides an in-depth look at Colts Chocolates' founder Mackenzie Colt. The story is an inspirational piece about one woman's determination to make her mark on the world, whether singing on stage or sending tastes buds into chocolate euphoria.
It was no accident that Colt found herself where she is today, sharing her delicious mixtures of pure chocolate and other fine ingredients with happy customers around the world. The article states that at as a young mother, Colt had two big passions, cooking and singing. Down the road these passions would converge in the form of an exciting new candy venture. Soon enough Colt's candy store was filling orders for companies across the globe, including an order for 60,000 pieces to Japan. To read the whole story you can find the full article on the Huffington Post website.
For someone who has performed in front of an audience of 20,000 this type of publicity is nothing new to Colt. This is not the first time Colts Chocolates has been showcased on the national stage. In 2010 Mackenzie Colt and her bountiful collection of unique chocolate treats were featured on an episode of The Food Network's Food Finds. The show focused on their New York Fancy Food Show, award winning trademark treat, Colt's Bolts, a perfect blend of chocolate, peanut butter and almonds.
After almost 30 years of business, Colts Chocolates are still going strong with a 10,000 square facility and a 1,200 pound chocolate tank. They offer a wide range of treats for the dessert enthusiast such as: Salted Caramel Gooey Butter Bar, French Apple Cake, Chocolate Dipped Animal Crackers, Demi-Dark Chocolate Covered Marshmallows and more.
For more information about Colts Chocolates or to place an order visit their website http://www.coltschocolates.com or reach them over the phone at 615-251-0100.