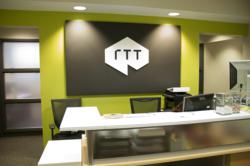 We are thrilled about the move and the fantastic growth in the company," stated Peter Stevenson, CEO - RTT USA, Inc.
Royal Oak, MI (PRWEB) March 14, 2013
The offices are now situated in the Howard & Howard building at 400 West Fourth Street in Royal Oak, MI. RTT occupies the fourth floor. This move marks a milestone for the company that opened its Michigan location in 2005 with only eight employees. There are now over 140 people in the Royal Oak branch.
On Tuesday March 5th, RTT began operating from the new site. The facility boasts 14 conference rooms, wellness rooms, expanded cafeteria and ample room for development.
"We are thrilled about the move and the fantastic growth in the company," stated Peter Stevenson, CEO - RTT USA, Inc. "RTT is happy to remain in Royal Oak, the centralized location is a great benefit to our clients throughout the metro-Detroit area," he added.
RTT just finished a five-year lease at the Contract Design building located at 423 North Main Street in Royal Oak and has made a five-year commitment to the building on Fourth Street. Surrounded by local restaurants, boutiques and businesses, the location offers great amenities to employees.
As the organization settles into the new surroundings, it looks forward to the annual visualization open house, RTT Excite Detroit. Taking place June 20-21, 2013 – The event plays host to guests from the Aerospace, Automotive, Consumer Goods, Footwear and apparel industries from around the country. While Excite is traditionally held off-site, this year RTT will take advantage of the newly acquired space and host the event in-house.
About RTT
RTT is the leading, one-stop-provider of high-end software, consulting and creative services in professional 3D visualization. As a strategic partner, RTT offers sustainable, effective and seamless process support across the entire product lifecycle with its holistic approach. As a result, products are developed faster and more cost-effectively while time-to-market is significantly reduced. Through creative, photorealistic CGI implementations, RTT enables innovative sales and marketing advantages and new dimensions of emotional brand staging. The Group´s customer-base includes companies like Adidas, Audi, BMW, EADS, Electrolux, Ferrari, General Motors, Harley-Davidson, Porsche, The North Face and Volkswagen. RTT AG was founded 1999 in Munich and currently employs about 700 peo-ple at 14 offices worldwide (as of December 31, 2012). For more information, visit http://www.rtt.usa.com.