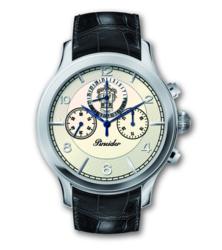 Offering stylish and well-made watches to our discerning customers.
(PRWEB UK) 15 March 2013
The new range includes chronograph watches as well as automatic and manual watches. Giorgio Fedon 1919 watches have movements by world-renowned watchmaker Seiko. Watches from both Pineider, the Italian heritage brand, and Giorgio Fedon 1919, the avant-garde brand, exude style and sophistication. Straps are available in a variety of leather, metal and rubber, each showing superior attention to detail in both design and functionality.
Rupert Bullock, founder of Luxury Artisan, said, "We are regularly looking to expand our accessories proposition in general." He went on to say "I wanted to extend the luxury leather goods proposition to our customers by offering them stylish and well-made watches. These will complement our range of luxury accessories, and will appeal to our discerning customers."
About Luxury Artisan
1. Luxury Artisan is an internet retailer of luxurious leather products, handmade by niche brands.
2. All products are handmade by skilled craftsmen, using the finest quality leathers and materials,
3. Since launch in 2011, Luxury Artisan has supplied quality leather goods to customers around the world.