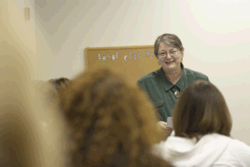 Service is central to LMU's mission and there is no profession that is more rooted in service than social work. - LMU President Jim Dawson
Harrogate, TN (PRWEB) March 14, 2013
The Council on Social Work Education (CSWE) has reaffirmed its accreditation of Lincoln Memorial University's (LMU) Department of Social Work for the maximum time period of eight years, University officials announced this week.
The CSWE is recognized by the Council for Higher Education Accreditation as the sole accrediting agency for social work education in the United States. The nonprofit national association represents more than 2,500 individual members, and has accredited 483 baccalaureate and 223 graduate social work programs. LMU's baccalaureate program first achieved CSWE accreditation in 2001.
"Service is central to LMU's mission and there is no profession that is more centered on service than social work," said LMU President B. James Dawson. "I am proud of the progress the social work program continues to enjoy."
LMU submitted a self-study a year ago and CSWE conducted a site visit in September 2012. CSWE accreditation allows students to be eligible for advanced standing graduate social work programs. In many states the program accreditation will afford graduates of the LMU program to use the title social worker. Additionally, it meets state licensure or certification requirements in selected states.
"LMU and the Department of Social Work are fully committed to maintain our social work program at the level we have achieved during this accreditation process," said Department of Social Work Chair Kay Paris. "Our program offers a high quality curriculum in a supportive learning environment."
The Department of Social Work is part of the Paul V. Hamilton School of Arts and Humanities. There are currently 39 students majoring in social work at LMU. Up to 14 graduate from the program each year. US News and World Report lists family and child social worker as a top 100 job and ranks it No. 28 in its social service sector listing. In a volatile job market, social work is showing growth as the Bureau of Labor Statistics (BLS) is predicting nearly 20 percent employment growth for children, family and school social workers between 2010 and 2020.
Lincoln Memorial University is a values-based learning community dedicated to providing educational experiences in the liberal arts and professional studies. The main campus is located in Harrogate, Tennessee. For more information about the undergraduate and graduate programs available at LMU, contact the Office of Admissions at 423-869-6280 or e-mail at admissions(at)lmunet(dot)edu.