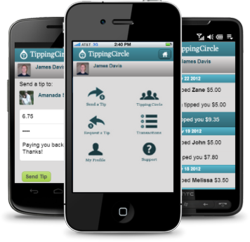 A key focus of TippingCircle is to bring people together to help one another in need using tipping buckets and fundraisers.
(PRWEB) March 15, 2013
TippingCircle specializes in personal payment services making it easy and free to exchange money with friends. As more people stop using cash, there is a growing need for personal payments online. TippingCircle provides convenient apps–both mobile and desktop–that make personal payments simple, social, and secure. The mobile app is designed to make it quick and easy to send money with just a few taps on an iPhone or Android device.
TippingCircle can be used in 190 countries worldwide; and under certain conditions, there is actually no processing fee when sending or receiving money. When someone "gets tipped", the money is deposited directly into the recipient's PayPal account. If any fees apply, they are deducted from each payment in real-time so no one has to worry about getting billed later. To know when it's free and when there's a fee; see TippingCircle's fee structure where it's explained in more detail on their website.
"A key focus of TippingCircle is to bring people together to help one another in need using tipping buckets and fundraisers." said James Davis, founder and CEO. "However, since our infrastructure already included it, we decided to also support the personal payment network. I'm glad we did because it's been a hit!"
In TippingCircle's most recent release, current users will be excited to see the option to specify whether they are sending a personal tip or a purchase payment. For users who want to send personal tips with no fees attached, there are validations and guides to assist in helping users get their PayPal account verified.
For those who haven't used TippingCircle yet, and occasionally find themselves out of cash when they owe a friend, this one is worth trying. Also, as James said, tipping buckets are a key focus and offer some attractive features. Tipping buckets are used for group payments and social fundraisers. Buckets can be shared through Facebook, Twitter, and other social networks to collect payments for birthdays, weddings, sports clubs, and other events. Social fundraisers help people pay for medical bills, contribute to local non-profits, and raise funds for other good causes.
TippingCircle is currently in Beta and steadily improving their social payment service. The next big release will be native apps for iPhone and Android devices providing a better mobile experience with more features.