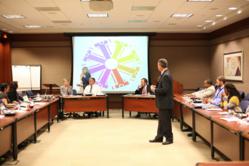 Atlanta, Ga (PRWEB) March 15, 2013
TrueLanguage, a leading provider of professional localization and translation services, today announced that it will be hosting the first Luncheon Series of the year on April 18, 2013 at the Georgian Club in Atlanta. The focus of this event will be "Growth through Global Expansion," featuring guest speaker, Mr. C. Russell "Russ" Sumrall, Director, International Restaurant Support Services, a leader for the Popeyes Louisiana Kitchen brand internationally. TrueLanguage began its Luncheon Series with the goal of providing attendees with information on "glocalization," a term used within the language services market to refer to the processes involved in preparing a business to effectively and accurately communicate with persons living in a specific global market.
"We are very excited to have Mr. Sumrall speaking at our upcoming Luncheon Series," said Doris Johnson, Director Strategic Business Development for TrueLanguage. "As one of the fastest growing and most stable global companies in the quick service industry, Popeyes has significant experience and knowledge about what it takes to be successful when entering foreign markets. Attendees can expect to glean many insights from Mr. Sumrall about growing a company through global expansion."
Mr. Sumrall is responsible for the development and execution of operations services and support strategy for Popeyes Louisiana Kitchen. He has successfully managed the launch of the Popeyes brand into numerous new international market including Peru in 2012 and Vietnam early in 2013. In addition to his 35 years of experience with Popeyes, Mr. Sumrall is a member of the International Franchise Association, Canadian Franchise Association, Southeast Franchise Forum, American Society of Training and Development, and the Society for Human Resource Management and often speaks about international franchising in various forums.
For more information on the upcoming or past TrueLanguage Luncheon Series events visit http://www.truelanguage.com/translation-agency-about-us/events/
Event Logistics:

Date: April 18, 2013
Time: 11:30 am to 1:30 pm
Location: The Georgian Club, 100 Galleria Parkway, Suite 1700, Atlanta, GA 30339
Lunch is provided.
To Register: Send an email doris(at)truelanguage(dot)com by April 11, 2013
About TrueLanguage
Based in Atlanta, TrueLanguage is a full-service professional localization company that provides cost-effective translation, interpretation and localization services based on each client's specific needs. TrueLanguage offers clients a strong combination of professional language experts, centralized project management and outstanding customer service to ensure accurate, compatible, reliable and authentic translation and interpretation in more than 60 languages worldwide. For more information on TrueLanguage and its worldwide localization services, visit http://www.truelanguage.com or contact the firm at info(at)truelanguage(dot)com or 770 850 1205.