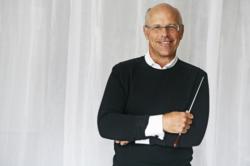 Baltimore, MD (PRWEB) March 14, 2013
The Baltimore Symphony Orchestra (BSO) and Maestro Michael Krajewski present Bond and Beyond: 50 Years of 007, a celebration of the world's favorite secret agent on Thursday, April 11 at 8 p.m. at the Music Center at Strathmore, and Friday, April 12 at 8 p.m., Saturday, April 13 at 8 p.m. and Sunday, April 14 at 3 p.m. at the Joseph Meyerhoff Symphony Hall. The program features soloist Debbie Gravitte and includes musical selections from five decades of Bond films, such as Casino Royale, Goldfinger, From Russia with Love and Skyfall. Please see below for complete program details.
With 23 films spanning 50 years, the James Bond series is one of the longest continually-running film series in history, having been in on-going production from 1962 to the present. The series has also had numerous signature tracks over the years, many of which are now considered classic pieces of film music. The best known of these pieces of music is the ubiquitous "James Bond Theme." Many other pieces of instrumental music have also become identified with the series, such as Shirley Bassey's "Goldfinger" and "Diamonds Are Forever," Nancy Sinatra's "You Only Live Twice," Paul McCartney's "Live and Let Die" and, most recently, Adele's Academy Award-winning original song, "Skyfall."
Michael Krajewski, conductor
Known for his entertaining programs and clever humor, Michael Krajewski is a much sought after conductor of symphonic pops. He is the principal pops conductor of the Houston Symphony, the Jacksonville Symphony Orchestra and the Atlanta Symphony Orchestra - the first to hold such a title in Atlanta.
As a guest conductor, Michael has performed with the Cleveland and Philadelphia Orchestras; the Boston and Cincinnati Pops; the San Francisco, Baltimore, Detroit, Indianapolis, Seattle, Dallas, St. Louis and National Symphonies, and numerous other orchestras across the US. In Canada he has led Ottawa's National Arts Centre Orchestra, the Calgary Philharmonic and the Edmonton, Winnipeg and Kitchener-Waterloo Symphonies. Other international appearances include performances with the Hong Kong Philharmonic, the Iceland Symphony Orchestra and the Ulster Orchestra in concerts in Belfast and Dublin.
Michael is the conductor of the video Silver Screen Serenade with violinist Jenny Oaks Baker that aired worldwide on BYU Broadcasting. On recording he has led the Houston Symphony on two holiday albums: Glad Tidings and Christmas Festival. In 2012-13 Michael will be conducting his original Sounds of Simon & Garfunkel program all over North America featuring national touring artists AJ Swearingen and Jonathan Beedle. Michael's other collaborative programs have included such artists as flutist James Galway, pianist Alicia de Larrocha, guitarist Angel Romero and pop artists Roberta Flack, Judy Collins, Art Garfunkel, Kenny Loggins, Ben Folds, Doc Severinsen, Patti Austin, the Preservation Hall Jazz Band, The Chieftains, Pink Martini, Rockapella, Cirque de la Symphonie, Classical Mystery Tour and Big Bad Voodoo Daddy.
Debbie Gravitte, vocalist
Debbie Gravitte has had a varied career taking her from the Broadway Stage to the Symphony Hall and points between. She won the prestigious Tony Award for Best Featured Actress in a Musical for Jerome Robbins' Broadway, along with a Drama Desk Award Nomination as well as the New York Showstopper Award. After making her Broadway debut in the original cast of They're Playing Our Song, she went on to appear in: Perfectly Frank (Drama Desk Award Nomination), Blues in the Night, Ain't Broadway Grand, Zorba, Chicago and Les Miserables. Debbie has appeared in Encore's series productions of The Boys from Syracuse, Tenderloin and Carnival at New York's City Center.
Debbie has sung with numerous symphony orchestras including National Symphony (with the late Marvin Hamlisch), Boston Pops, Atlanta Symphony, Cleveland Orchestra, Pittsburgh Symphony, Utah Symphony, St. Louis, Houston and San Diego Symphonies. Overseas, she has sung with the London, Aalborg and Birmingham Symphony Orchestras, Stockholm Philharmonic, Gotesborg and Jerusalem Symphonies, Munich Philharmonic, Royal Scottish National Orchestra and Symphonica of Brazil.
Debbie recently finished her latest CD, Defying Gravity, a follow-up to the MGM album, Part of Your World and the Alan Menken Album. Debbie recently debuted with the New York City Ballet, singing in Peter Martin's "Thou Swell" at Lincoln Center. She appeared with Bette Midler in the Universal Film Isn't She Great? and can be heard as one of the voices in Disney's The Little Mermaid.
Complete Program Details
SuperPops Concert Series: Bond and Beyond: 50 Years of 007
Thursday, April 11, 2013 at 8 p.m. – Music Center at Strathmore
Friday, April 12, 2013 at 8 p.m. – Joseph Meyerhoff Symphony Hall (JMSH)
Saturday, April 13, 2013 at 8 p.m. – Joseph Meyerhoff Symphony Hall
Sunday, April 14, 2013 at 3 p.m. – Joseph Meyerhoff Symphony Hall
Michael Krajewski, conductor
Debbie Gravitte, vocalist
Tickets range from $28 to $63 and are available through the BSO Ticket Office, 410.783.8000 or BSOmusic.org.
###