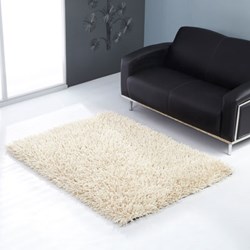 Matching cushions and rugs are available in the Embassy range in a choice of five colours; black, ivory, red, aubergine and chocolate.
(PRWEB) March 16, 2013
Contemporary Heaven is now stocking a brand new range of soft home from the Future Living brand. This funky new design range is called Embassy, which features a unique spiky pencil fabric design that gives an appearance of structure and dimension even to a flat rug. Available in a choice of modern colours, Embassy includes cushions, rugs and pouffes, making it easy to match colours and styles throughout the living area.
Floor cushions and beanbags are among the most popular living room accessories due to their adaptability in colour, size and placement. These are also seen as comfortable and informal items which aid relaxation in the home. Ever popular with children, large floor cushions, beanbags and pouffes are also widely appreciated by adults since sitting directly on the floor is often uncomfortable.
Matching cushions and rugs are available in the Embassy range in a choice of five colours; black, ivory, red, aubergine and chocolate. These home décor accessories always impress the most when harmonised with the surrounding style, and the fact that matching cushions, rugs and pouffes are available makes it very easy to create a theme. Neutral colours like Ivory, black and chocolate work well in most rooms, while the purple and red are more specialised towards a particular colour scheme. Neutral rooms suit the brighter colours better since small patches of vibrancy work well in minimalist modern themes, highlighting the clean simplicity while adding warmth and character.
Rugs in the Embassy range are available in three different sizes to suit most room shapes and feature hundreds of long fabric spikes to create an amazing visual impact. A unique design and a good range of colours make the Embassy range an exciting addition to the Contemporary Heaven soft home décor accessories collection.
Contemporary Heaven also stock a fantastic floor cushion from Auskin of Australia, which is made from genuine long-haired wool. A sumptuous and luxurious addition to the home, the floor cushion measures 80cm (31 inches) and has soft, thick and natural fibres. The large floor cushion comes in a choice of black, ivory or chocolate colours.
About the Company
Contemporary Heaven is a Hertfordshire based retailer and manufacturer with online outlets in the UK, Holland, France, Germany, Poland and the US. They are a subsidiary of Roco Verre LTD which has been in existence for more than 15 years, supplying a range of home accessories to retailers, businesses and individuals. Their range of home accessories includes modern clocks, custom time zone clocks, personalised school clocks, coasters and placemats, unusual wall mirrors, storage solutions, contemporary lighting, bathroom accessories, barware and much more.
For more information, visit http://www.contemporaryheaven.com.
Contact Details:
Roco Verre Ltd
Contemporary Heaven Division
68 Wilbury Way
Hitchin
Herts
Ph.: 44 (0)1462 451199