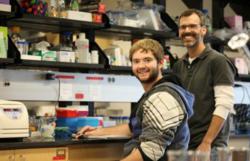 Ashland, Ohio (PRWEB) March 14, 2013
Three academic programs at Ashland University have come together to develop and offer a new course titled "STEM Commercialization and Entrepreneurship." The course is being taught this spring.
The new multi-disciplinary course involving programs in biology, communication studies and entrepreneurship was developed by Dr. Mason Posner, professor of biology; Dr. Theodore Avtgis, professor of communications studies; and Dr. Steve Pool, professor of management.
According to Posner, the course development was in response to the Ohio Board of Regents' Commercialization Task Force Report in June of 2012 that included a recommendation that "Ohio's four-year universities and two-year community colleges expand their entrepreneurial curricula, collaborate with corporate partners to offer expanded student internships and cooperative experiences, promote meaningful business plan competitions and develop experiential learning opportunities with start-up companies."
"Developments in science, technology, engineering, math and medicine (STEM) have large impacts on society," Posner said. "The ability to commercialize new STEM discoveries into marketable products and services is of growing importance in science, a prominent aspect of modern entrepreneurship and a contributor to economic development."
Posner said the goal of the three-credit-hour course is to apply entrepreneurial concepts to the area of STEM commercialization, providing novel course content for business students and expanded entrepreneurship offerings for science and communication studies students, all of whom will develop science business plans as a capstone course project.
"Students in the course will investigate the nature of STEM commercialization through the development of their own market study for a new STEM product or service," he said. "This process will involve research into the scientific literature, discussions of the translational nature of scientific innovation, the basics of intellectual property and patent law, the communication aspects of commercialization, and the development of collaborative skills."
In addition to the course being offered at Ashland University next year, the course is being offered as a dual credit course at Hudson High School this spring.
The dual credit offering, which is taught by two AP science teachers who are AU adjunct instructors, is part of the Entrepreneurial Engagement Ohio and The Ohio Academy of Science's statewide Youth STEM Commercialization and Entrepreneurship Program that is designed to help develop the economic, business, entrepreneurial and scientific literacy and global awareness of high school and middle school students.
Ashland University, ranked in the top 200 colleges and universities in U.S. News and World Report's National Universities category for 2013, is a mid-sized, private university conveniently located a short distance from Akron, Cleveland and Columbus, Ohio. Ashland University (http://www.ashland.edu) values the individual student and offers a unique educational experience that combines the challenge of strong, applied academic programs with a faculty and staff who build nurturing relationships with their students.