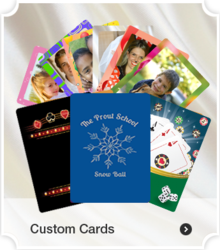 Each custom card deck built on www.customcarddecks.com generates a donation of $1.50 to the non profit cause chosen by the customer!
Netcong NJ (PRWEB) March 31, 2013
Feeding the hungry; helping the needy; saving America's Wild Mustangs... New Jersey business owner Shari Spiro wants to help non-profits raise money for these and other important causes. That's the goal of a new website, http://www.customcarddecks.com.
The site was designed by Spiro, owner of Ad Magic Playing Cards Netcong, NJ in partnership with Editability Solutions of Dallas, Texas. Through their combined efforts, custom playing card decks purchased on the site allow non-profits to raise money by receiving $1.50 of every custom card deck printed through the web site.
Wild horses may not drag you to support a fundraiser, unless you're Saving America's Mustangs, an organization dedicated to saving wild Mustang horses in the United States. This organization chose Custom Card Decks as a fundraising vehicle that allows anyone to make a custom deck of playing cards using their own photos or designs on the site in a state of the art online playing card builder. In return, the organization receives $1.50 for each deck of cards sold.
Those wanting to support the non-profit then visit the site, either by going to the free landing page provided by the site - or by reaching the site through Googling custom card decks. Once there, people can choose a non-profit to donate to and have fun building a card deck with uploaded photos or the graphics in the card builder. You can donate right now by going to the landing page Save the Mustangs.
New technology has made it easy for people to create their own playing card decks sporting photos of children, spouses, family members and pets to use as gift items and mementos. Every person that chooses the fundraiser will have $1.50 of their payment directed to the fundraiser. Card decks are shipped wherever the customer chooses, and funds raised are mailed to the non-profit.
World class programming technology developed by Editability of Texas enables this all to flow smoothly using their "back office" technology. As orders are entered, printed, and shipped, the system also automatically calculates donations for each nonprofit. "This system is the first custom playing card builder in the world to boast such sophisticated back office capability," said Spiro.
She should know; her company, AdMagic, has manufactured custom card decks for over 20 years for clients ranging from Broadway shows (The Addams Family), rock stars (Katy Perry, Dave Matthews Band) Card Games (Cards Against Humanity, Orijinz) to large corporations (HBO, Symantec). "We knew as soon as we saw it that the potential to help non-profits was
unprecedented," Spiro adds.
To see how the whole process works, check out this YouTube video tutorial about fundraising with custom card decks.
Custom Card Decks hopes to help many non-profits. There is absolutely no cost to the non-profit; all they need to do is promote the free landing page provided to them. "People are building decks online every day," says Spiro. "We want to give back and support those who are trying to make a difference in the world."
Interested non-profits may contact Shari Spiro at 973-713-5155 or email shari(at)customcarddecks(dot)com for more information.
About Ad Magic
Ad Magic is a leading printer of custom playing cards for businesses, a kickstarter printer for inventors, and a custom game printer for clients such as Cards Against Humanity.
About Editability Solutions:
Editability Solutions of Plano, Texas provides technological solutions to companies that lack the ability to implement technology within their business. For more information on Editability Solutions, email kspringer@editabilitysolutions.com to contact Kraig Springer Director of Business Development.