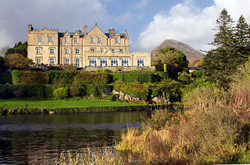 Ireland is a wonderful location for a destination wedding, rich with culture and beautiful landscape.
Wayland, MA (PRWEB) March 15, 2013
DestinationWeddings.com has launched a St. Patrick's Day sweepstakes, "Try Your Irish Luck," to celebrate the addition of Ireland to its portfolio of destination weddings locations.
Couples who enter will have the chance to win a free 7-night stay at the Ballynahinch Castel Hotel in Connemara Co. Galway, Ireland.
"We are responding to the many inquiries we have received from our couples for Irish weddings," said Richard Calvert, President & CEO of Destination Weddings Travel Group. "Ireland is a wonderful location for a destination wedding, rich with culture and beautiful landscape."
The winner will also receive a complimentary destination wedding ceremony and the chance to leave their legacy when they plant a native Irish hardwood tree, which will be entered into a registry of trees. The couple will also receive a registration certificate as a keepsake.
Entries can be submitted for the "Try Your Irish Luck" sweepstakes here. The sweepstakes runs from March 14-31 and the winner will be notified via e-mail.
About Ballynahinch Castle Hotel
Ballynahinch Castle has been welcoming visitors to Connemara for over 250 years. Set on a private 450 acre estate in the heart of Connemara Co. Galway, it overlooks a famous salmon fishery, with a backdrop of the beautiful 12 Bens Mountain Range. This world-renowned hotel and sporting estate offers visitors an unrivalled experience in true Irish hospitality. The Castle Hotel features riverside accommodations, award winning dining and a superb pub. As a champion of the Connemara environment, Ballynahinch Castle offers you the opportunity to experience first hand the natural wonders of this beautiful estate.
About DestinationWeddings.com
DestinationWeddings.com, part of the Destination Weddings Travel Group, has worked with over 15,000 brides. In 2012, DestinationWeddings.com was ranked by Inc. Magazine as one of the 500/5000 fastest-growing private companies in the country for the fifth consecutive year. Combining the personal service and expertise of more than 200 certified specialists with resort partnerships in over 42 countries, DestinationWeddings.com provides a premier, one-stop shopping experience for customers seeking an exceptional destination wedding experience. For more information, visit http://www.DestinationWeddings.com.
# # #