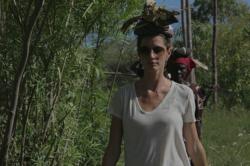 Millions of lives are lost every year because of smoke inhalation... that's injustice.
RUGBY, UK (PRWEB UK) 15 March 2013
With action on tackling malaria making real progress – The World Health Organisation hopes to eradicate deaths from the disease by 2015* - supermodel Gisele Bundchen has teamed up with charity Practical Action to push an even bigger development issue – the killer in the kitchen.
In developing countries where access to energy is scarce, 3 billion people cook on open fires inside their homes, filling them with toxic smoke which kills more people than malaria every year – almost 2 million.
Everyone needs energy to cook food, heat the home, earn a living and access medical care and education, yet in Sub Saharan Africa, on average, 2 in every 3 families live without electricity – in Kenya just 18 per cent of homes have power.
To mark the UN's Year of Sustainable Energy for All, global supermodel and UN Goodwill Ambassador Gisele Bundchen, travelled to Kenya with Practical Action and experienced the realities of energy poverty first hand.
During her visit Gisele took part in a dawn firewood collection with women in Kisumu, Western Kenya, who still cook on traditional fires that fill homes with toxic smoke. She experienced the many hours it takes to cook a simple breakfast for the family and visited homes where babies slept next to smoky fires.
Practical Action is working with women like these to install improved cookstoves and smoke hoods which remove up to 80% of the toxic smoke inside homes vastly reducing the number of people dying from lung cancer, acute respiratory diseases and suffering eye infections caused by their cooking habits.
Gisele said: "Millions of lives are lost every year because of smoke inhalation and just as many women and children will be living in energy poverty in 20 years' time if nothing is done, that's not development – that's injustice.
"But there is hope, Practical Action's cookstoves are a very effective solution to this killer in the kitchen."
Practical Action works closely with communities providing them with the skills, tools and confidence to challenge their poverty. For many the dream of being able to access energy is a distant reality but by ensuring that development is owned by the community and is sustainable, provides people with the opportunity to work themselves out of poverty
To tackle this injustice, the UN-led Sustainable Energy for All initiative is promoting three energy goals for 2030: achieving universal access to modern energy services, doubling the historic rate of improvement for energy efficiency, and doubling the share of renewable energy in the energy mix.
Margaret Gardner, Director at Practical Action commented: "The international community recognises a number of basic rights: the right to water, the right to food, the right to health, the right to adequate housing, the right to earn a living and the right to take part in cultural life. Missing from this list is the right to energy.
Yet, everyone needs energy to cook food, to heat the home, to earn a living, to benefit from good health and education services. Energy poverty denies people a basic standard of living, which should be available to all."
*http://www.huffingtonpost.com/2011/12/14/malaria-deaths-who-goal-world_n_1148047.html