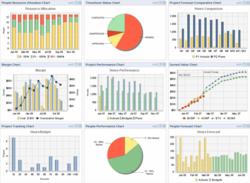 'These are very exciting times at Unanet for our customers, partners and employees,' - Chris Craig, President
Dulles, VA (PRWEB) March 28, 2013
Unanet, a developer of services automation software that helps organizations manage people and projects for improved profitability, has announced that it experienced a record year in 2012 in spite of tough market conditions and continued uncertainty in the Federal market.
In 2012, Unanet experienced overall revenue growth of 15% and an increase in On Demand (Software as a Service) subscription revenues by 35%. The Unanet On Demand platform expanded with significantly increased capacity and additional geographic support.
A record number of organizations, 119, adopted Unanet in 2012, nationwide and internationally, in sectors such as government contracting, commercial consulting, interactive agencies, higher education, internal IS, biotech, non-profits and other industries, across organizations ranging in size from very small start-ups to large public companies.
To support the continued and forecast growth, Unanet has made significant numbers of new hires in all areas of the business and is expanding space at the Unanet Corporate Headquarters in Dulles, VA to accommodate additional staff. In particular, Unanet has expanded its software engineering and consulting capabilities. Unanet has hired both entry level and experienced staff to support its growth, and promoted from within.
An expanded partner network has supported the growth in Unanet, led by Donna Kilbourn, Senior Vice President of Customer Account Management and Partner Channels, and a growing support team. In 2013 a new partner certification program will support this growth and ensure the high level of customer service for which Unanet is renowned.
In 2012, the Unanet product saw major new capabilities related to project budgeting and forecasting, resource management, project accounting, invoicing, project reporting, and integration with third-party financial systems. Starting in 2013 Unanet will expand the scope of the Unanet software to support a full Project-Based ERP system including a General Ledger, Accounts Payable, Accounts Receivables and support for Cost Pools.
Chris Craig, appointed as Unanet President in 2012 commented, "These are very exciting times at Unanet for our customers, partners and employees."
About Unanet
Unanet provides superior Services Automation software which maximizes staff utilization, reduces administrative costs by 90%, improves invoicing by 10X, and supports forward decision-making for improved profitability. Unanet's more than 950 customers include government contractors, consulting/services organizations, internal IT (Information Technology), and high-technology product companies. Unanet's suite includes resource management, opportunity/project management, timesheets, expense reports and collaboration with real time information and analytics, project costing, billing and revenue recognition. With easy to use interfaces, and outstanding support. Unanet is available either as an On Premise (self-hosted software), or an On Demand License (Cloud).