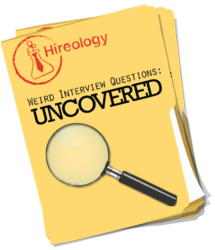 As experts in hiring and interviewing we decided to lend our knowledge to the trend of asking off-the-wall interview questions to determine a candidate's culture fit
Chicago, IL (PRWEB) March 14, 2013
Yesterday the leading selection management platform, Hireology, announced a new ebook to add to their resources library titled, Weird Interview Questions: Uncovered. The 13-page interactive guide takes readers through the start of the trend of asking weird interview questions and the top 5 reasons why they shouldn't use this tool to hire candidates.
The ebook investigates whether or not weird or interesting interview questions are a useful technique for hiring managers. It highlights the beginning of the fad when startups posted their oddball interview questions online and many companies started following. Now questions like "if you were a sports car, what color would you be?" are common in interviews in every industry.
Hireology released their findings on whether or not these questions help hiring managers find candidates who would be a good culture fit.
"As experts in hiring and interviewing we decided to lend our knowledge to the trend of asking off-the-wall interview questions to determine a candidate's culture fit," said Hireology's Marketing Coordinator, Erin Borgerson. "We enjoyed researching the wacky questions but also think hiring managers will benefit from reading why they aren't the best questions to ask."
To download the ebook for free, interested parties can go to Weird Interview Questions: Uncovered.
About Hireology
Hireology's award-winning Selection Management System helps companies organize their hiring process and leverage data to make better hiring decisions. Franchise systems, banks and financial institutions, healthcare systems, dealer networks, and other multi-site operators use Hireology's web-based Selection Manager™ to deliver consistent and repeatable hiring decisions in the field - leading to better hiring decisions, lower turnover, and increased profitability per location. For more information, please visit http://www.Hireology.com.