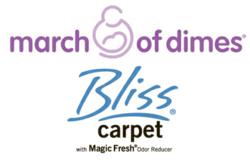 "We are extremely excited about this unique opportunity to support something so worthwhile as this," said Ralph Boe, CEO of Beaulieu of America
Dalton, Georgia (PRWEB) March 15, 2013
Beaulieu of America executives announced today Beaulieu's sponsorship of the March of Dimes imbornto® campaign for 2013. Beaulieu's Bliss carpet brand joins with Kmart, Martha Stewart Living Omnimedia, ProFlowers and other well-known brands to be the "official sponsor of Mother's Day and Father's Day" with its support of this March of Dimes annual fund-raising drive.
According to Chad Royal-Pascoe, Vice President, National Partnerships & Cause Marketing for the March of Dimes, "The imbornto campaign recognizes that every baby is born to do something great. So our goal is to help them be born strong and healthy." Since its founding by President Franklin Roosevelt, March of Dimes has funded accomplishments such as the polio vaccine, the discovery of the double helix in DNA and expanded newborn screening for every baby in every state. "There were 4 million babies born in the U.S. last year, and not all of them were healthy," observed Royal-Pascoe. "March of Dimes has benefitted the lives of families with continued advancements in our research, education, vaccines and breakthroughs, and we are thrilled that Beaulieu will add Bliss to our efforts and support the imbornto campaign."
"We are extremely excited about this unique opportunity to support something so worthwhile as this," said Ralph Boe, CEO of Beaulieu of America. "This is a cause that resonates with everyone of us."
Gary Fisher, EVP of Marketing for Beaulieu of America, said that while this is a year long partnership, much of the support will be focused during late spring, early summer: Mother's Day and Father's Day. "Beaulieu's participation with our Bliss brand will be featured throughout this national campaign in USA Today and Martha Stewart Living ads, as well as outdoor boards in major U.S. cities. We will also promote this cause with our Bliss dealers, nationwide." Beaulieu will donate $0.50 for every yard of selected styles of Bliss carpet sold during May and June.
Learn more at http://www.imbornto.com or visit http://www.MarchOfDimes.com
About Beaulieu of America
Beaulieu of America makes carpet for residential, commercial, and specialty markets. Headquartered in Dalton, Georgia, Beaulieu designs, manufactures and markets BLISS carpet for residential replacement, HOLLYTEX main street commercial carpet, BOLYU carpet for specified commercial, AQUA carpet for the hospitality industry.
About March of Dimes
The March of Dimes is the leading nonprofit organization for pregnancy and baby health. With chapters nationwide and its premiere event, March for Babies®, March of Dimes works to improve the health of babies by preventing birth defects, premature birth and infant mortality. For the latest resources and information, visit marchofdimes.com or nacersano.org. Find us on Facebook and follow us on Twitter.