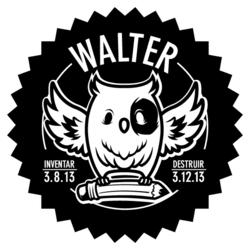 New York, NY (PRWEB) March 14, 2013
Today, JWT announced that it selected Plotter, a Cleveland-based startup, as the recipient of a brand campaign coming out of its WALTER pop-up agency at SXSW Interactive.
Plotter is the first social network for maps. It allows users to create, share, crowdsource and discover maps of their favorite locations through a "mobile-first" application. Users can easily connect with friends to crowdsource maps or use Plotter's Map Room to grab curated maps with extra features. On March 12, Plotter won the Social Technologies category of the fifth annual SXSW Accelerator program, rising to the top of the 500 companies that entered Web–based products in the competition.
"Plotter has a great idea that's reinventing its category," said Perry Fair, president of WALTER and chief creative officer of JWT Atlanta. "Its app is the antidote to unfulfilling journeys. They presented the best opportunity for us to partner, at the right time, with a startup as a startup agency. They weren't too far down the path or too new. A lot like WALTER. We are honored to work with them. "
"We created a social network in four-and-a-half months, and WALTER created an ad campaign for us within five days. We couldn't have asked for a more nimble and collaborative team to work with. It was incredible to see how fast a completely integrated team of planners, creatives and technologists could move and adapt within a five-day period. More importantly, I think we may have uncovered that big idea to help propel us into the marketplace," said Tom Nolan, founder and CEO of Plotter.
WALTER came to life on March 8, 2013, at SXSWi in Austin, Texas. Over five days, a collective of WORLDMADE creative and strategic talent from across the JWT network, including some of the agency's brightest stars from Atlanta, New York, Brazil, London and more, teamed up to develop a customized brand campaign for Plotter.
WALTER selected Plotter from a larger pool of finalist startups, including:

Your Karma – With Karma, you pay for data as you go, on your Wi-Fi hotspot. The more you share your connections, the more free data you earn.
Distil – Distil helps companies identify and block malicious bots from web scraping, spamming, frauding websites.
Roximity – Roximity helps merchants and brands deliver targeted, contextual offers and messaging via mobile apps, SMS/MMS and autos (Ford, Honda, etc.).
Mr. Arlo – Simplify travel discovery by leveraging social networks, allowing users to make better travel decisions.
Citybot – Citybot creates personalized trips for visitors based on their interests, schedule, and transportation needs.
SeatGeek – SeatGeek is what music lovers and sports fans use to find the best events in their area.
.Co – The Web address for big ideas online. More than just a domain, .Co is changing the fabric of the Internet, one URL at a time.
Narratively – A platform devoted to original, in-depth and untold local stories with a universal appeal.
JWT will stay in touch with many of the startups that participated, in the hope of future partnership and collaboration with the agency or its clients.
"Plotter has a great product—they are courageous, have an incredibly smart team and get how the right marketing program can compress the time between launch and critical mass. And while WALTER might have just self-destructed in Austin, we believe it has a future part to play in JWT—particularly when it comes to finding new ways of working with different kinds of companies. Watch this space," said David Eastman, CEO of JWT North America.
To see glimpses of the WALTER experience at SXSW, follow @CallUsWALTER on Twitter or visit http://www.CallUsWalter.com/.
About WALTER
Five days. That's how long we'll be around—this time. The startup, start-down ad agency. A collective of industrious outsiders who embrace uncertainty, invent within chaos and make a difference by being different. It's the age of improvisation, so join us. The prize: a lean brand plan that commands focused attention from distracted split-screeners. Call us WALTER.
About JWT
JWT is the world's best-known marketing communications brand. Headquartered in New York, JWT is a true global network with more than 200 offices in over 90 countries employing nearly 10,000 marketing professionals. JWT consistently ranks among the top agency networks in the world and continues a dominant presence in the industry by staying on the leading edge—from producing the first-ever TV commercial in 1939 to today, developing award-winning branded content. JWT embraces a WORLDMADE philosophy, making things inspired by the world through blending technological innovation with international imagination. JWT has forged deep relationships with clients including Bayer, Bloomberg, Brand USA, Diageo, Ford, HSBC, Johnson & Johnson, Kellogg's, Kimberly-Clark, Kraft, Macy's, Mondelez, Nestlé, Nokia, Rolex, Royal Caribbean, Schick, Shell, Unilever, Vodafone, Vonage and many others. JWT's parent company is WPP (NASDAQ: WPPGY). For more information, please visit http://www.jwt.com and follow us @JWT_Worldwide. Follow JWT's activities at SXSW on Twitter with hashtag #jwtsxsw.
About Plotter
Plotter is a freshly launched social network for maps. Currently available as a free download on the iOS App Store, users can create, share, crowdsource and discover maps of their favorite locations. An Android app, fully functional website and connected car app are also in the works. Based out of Cleveland, Ohio, Plotter aims to redefine the way people interact with maps on all of their connected devices. To learn more, please visit http://www.plotterapp.com and follow us on twitter @PlotterApp.
Contacts
Anaka Kobzev
212-210-8691 / 917-362-5845
anaka.kobzev(at)jwt(dot)com
Tom Nolan
330-242-6992
tom(at)plotterapp(dot)com
# # #